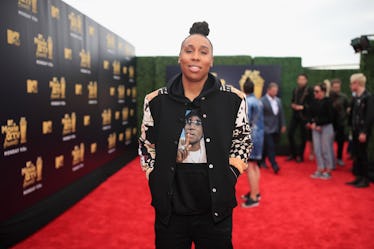 Lena Waithe Dedicated Her Trailblazer Award To A Special Group At The MTV Movie & TV Awards
Christopher Polk/Getty Images Entertainment/Getty Images
There's no question that Lena Waithe is on top of the world right now. She's a talented writer and actor, and is already making history with her contributions to the entertainment industry. Back in September 2017, she became the first woman of color to win an Emmy award for comedy writing for her work on Master of None. That's a pretty amazing feat in and of itself. And now, she has been honored with the Trailblazer award by MTV. True to form, Lena Waithe's 2018 MTV Movie & TV Awards speech was dedicated to a special group that Waithe considers trailblazers in their own right.
When it was announced in May 2018 that Waithe would be receiving this award, Amy Doyle, the general manager of MTV, VH1 and Logo praised her, saying:
Lena is shaking up Hollywood and breaking cultural boundaries through her innovative and authentic storytelling. Her unwavering passion for equality and inclusion make her the perfect recipient for this year's Trailblazer Award.
Waithe's trailblazing moment started when rapper Common stepped on stage to present the award to her. He waxed poetic about Waithe's incredible influence on her colleagues and on those who are rising up the ranks as she once did. Waithe, according to Common, mentors hundreds of young writers and is doing all she can to inspire the next generation of young writers.
"It's one thing to change the landscape of TV and movies, it's another thing to change the world," Common said in his introduction.
Waithe's impact on the industry is indeed amazing, and she definitely deserves this award for all her hard work.
When accepting the award, Waithe took the stage and expressed her sincere gratitude to Common, MTV, and God for giving her the chance to be there. She's also dedicated her award to those trailblazers of the 1980s, who created and sustained ball culture in Harlem. The writer and actress also discussed how big an influence the documentary Paris is Burning had on her.
"They strutted through a brick wall so we wouldn't have to," Waithe said in her speech.
She also urged people to watch the film to learn a thing or two about how common expressions many use now stem from those who created ball culture:
Watch it and find out where you got your culture from. A lot of people featured in this film are no longer with us, but their legacy will never die, because they live on in all of us. And every time someone says 'shade' or talks about 'reading' or just decides to serve face for no reason at all, please look up to the sky and give thanks because we owe them a huge debt of gratitude.
For those of you not familiar with ball culture or Paris is Burning, here's what you need to know: Ball culture, also known as the house system or the ballroom community, is an underground LGBT fashion subculture in which people compete or "walk" at events called balls for prizes. This particular subculture came to prominence in New York City in the 1980s and was home to many African-American and Latino gay and transgender people. Paris is Burning, which was released in 1991, chronicled ball culture as well as the people involved in it, and is considered essential viewing in the LGBT community.
So, in her speech, Waithe is paying homage to all those who came before her, which is truly amazing. There's no doubt that all types of trailblazers paved the way for storytellers like Waithe, and now she's doing the same for others. What a way to pay it forward! Waithe is an icon in the making, for sure.