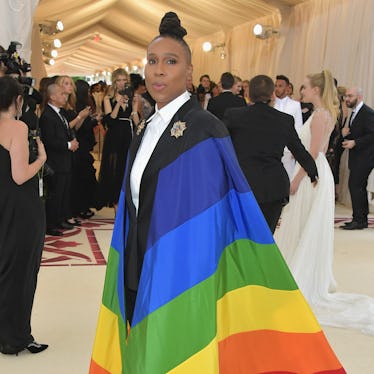 Lena Waithe Will Be Honored With A Major Award At This Year's MTV Movie & TV Awards
Neilson Barnard/Getty Images Entertainment/Getty Images
2018 has been full of some incredible entertainment so far. With the MTV Movie and TV Awards quickly approaching, fans are tallying up their favorite actors and placing bets on who is taking home the winners title. Elite Daily knows one winner so far, and I am loving it. Lena Waithe is the 2018 MTV Movie and TV Award Trailblazer Award winner and fans could not be more stoked for her.
According to a press release from MTV, the Trailblazer award "recognizes game-changing creators with fresh and fearless voices in entertainment." Waithe has already made history as the first woman of color to win an Emmy Award for Outstanding Writing in a Comedy Series for her work on Aziz Ansari's show, Master of None. Fans can also see her in the epic futuristic Steven Spielberg film, Ready Player One, out in theaters now. However, both of these projects are just a small piece of Waithe's impressive career.
MTV calls Waithe a "triple threat" as she is a writer, creator, and executive producer on Showtime's series, The Chi. She's also currently writing and producing a pilot for TBS called Twenties which is "loosely based" on her own experience as a 20-something living in Los Angeles. General Manager at MTV, VH1, and Logo, Amy Doyle, says she is the perfect candidate for the trailblazer award.
According to Doyle, "Lena is shaking up Hollywood and breaking cultural boundaries through her innovative and authentic storytelling." Doyle added, "Her unwavering passion for equality and inclusion make her the perfect recipient for this year's Trailblazer Award."
For Waithe, a mission to create authentic and accurate stories of people of color is the driving force behind her work. During the Television Critic's Association's winter press tour, Waithe had the chance to discuss The Chi and touch on the infamous #OscarsSoWhite controversy. Waithe explained,
If you look at any of these covers featuring the 'best movie actors,' those covers are very pale. What we could do is say, 'Well, why are those covers not more inclusive?' and one of the big answers is there are not enough films where the lead roles are substantial enough where we could have these people on these covers. So I think a big issue is not a lack of talent, it's the lack of writers having the opportunity to tell complex, interesting stories. Like Lady Bird, like Call Me By Your Name, those come out every year. We get Moonlight every ten years. We get Mudbound every 12 years. We get The Chi once in a blue moon.
Variety describes the series' plot as "a coming-of-age story centering on a group of residents who become linked by coincidence but bonded by the need for connection and redemption on the city's South Side."
Waithe explains she hopes a show like The Chi ultimately creates more opportunities for diverse talent. "My hope is that with the success of The Chi there will be more opportunities," she said.
People and studios, like Showtime, they're taking a real chance and saying, 'Oh, you're showing brown people as human beings.' As simple as an idea as that is, it's a revolutionary act. So I'm happy we're a part of that revolution – because it is being televised. We're showing America how to see us.
You can tune in to the MTV Movie and TV Awards on Monday, June 18, at 9 p.m. to catch Waithe, plus all of the other incredible nominees up for awards this year. Congratulations, Lena!
Check out the entire Gen Why series and other videos on Facebook and the Bustle app across Apple TV, Roku, and Amazon Fire TV.