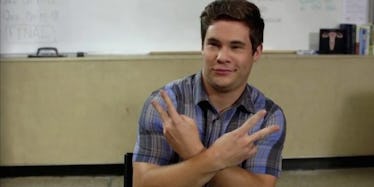 The MTV Movie & TV Awards Are This Weekend And Here's How To Watch
Comedy Central
The MTV Movie Awards made some huge changes for this year's show. For one thing, now it's bringing television into the fold and has officially renamed itself the MTV Movie & TV Awards.
There's also a whole bunch of really interesting new categories like Best American Story and Best Fight Against the System, and the categories are now genderless. So instead of Best Actor and Best Actress, the show is making both men and women eligible for the same Best Actor in a Movie and Best Actor in a Show awards.
So yeah, you're definitely not going to want to miss the new and improved MTV Movie & TV Awards. Adam Devine is hosting the awards show this Sunday, and it will also feature performance from Big Sean, Noah Cyrus, Camila Cabello and Pitbull.
The show begins at 8 pm ET on MTV. If you don't have cable or aren't near a TV, you can catch a live-stream of the awards show on MTV's website.
You're definitely going to want to be sure you tune in right at 8 and keep your eyes on the screen because the MTV Movie Awards have a history of getting pretty crazy. With all the big change-ups this year, some wild things are bound to go down.
There are also some pretty insane nominee matchups going on because of the new all-inclusive category system. Like, Allison Williams is up against the Demogorgon from "Stranger Things" for the Best Villain award, and Taraji P. Henson's portrayal of NASA mathematician Katherine Johnson is going toe-to-toe with Grant Gustin's The Flash for Best Hero.
Yep, definitely some of the most unpredictable awards show matchups ever.
The big honor of the night will be going to Vin Diesel's long-running "Fast & Furious" franchise, which is driving off with the Generation Award.
It all goes down on Sunday, May 7 at 8 pm ET on MTV.