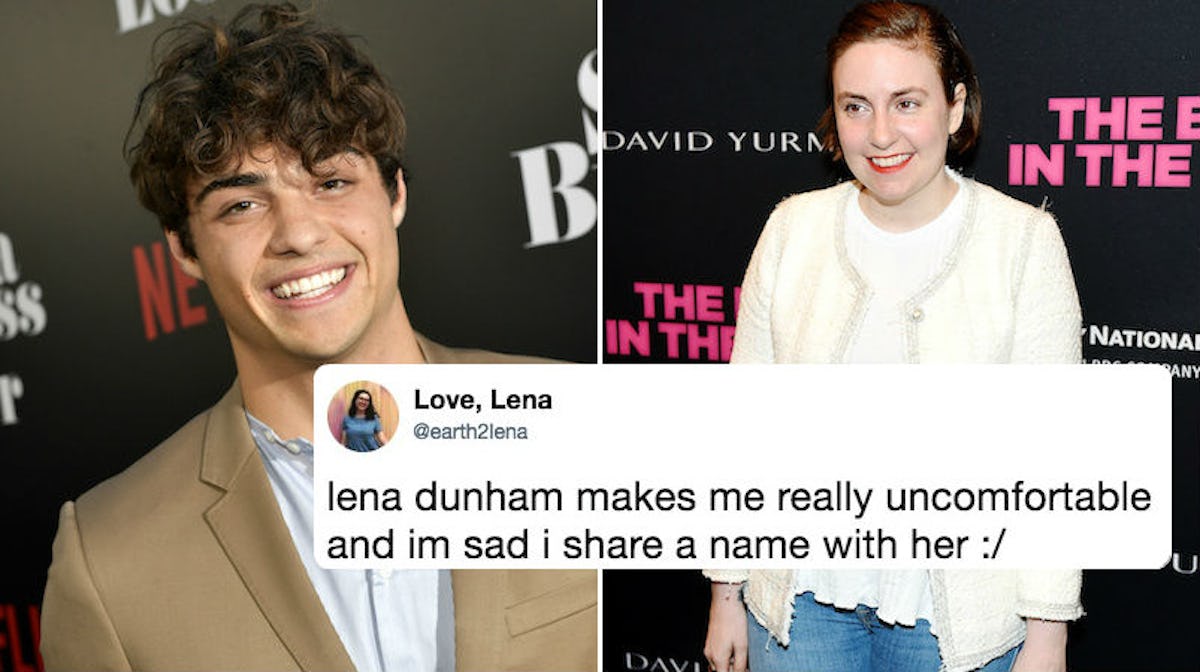 Lena Dunham Came For Noah Centineo With The Shadiest Tweets, So Fans Are On The Defense
Matt Winkelmeyer/Getty Images; Nicholas Hunt/Getty Images
OK, so I usually really dig Lena Dunham. I mean, I get that she can be controversial and polarizing, and that she receives a lot of online hate — some of it well deserved, like with that whole awful situation where she shamed and made narcissistic assumptions about Odell Beckham, seemingly, for not paying her enough attention at the Met Gala. I've always been in awe of the Girls' creator's talent, though, so I pretty much still worship at her temple. But. But. Lena's Dunham's tweets about Noah Centineo crossed another line. They crossed another line big time. And now I feel like I, once again, have to re-evaluate everything I thought I knew about her.
Lemme explain. On Sunday, Sept. 16, Dunham took to Twitter to ask her followers if they were more like the Netflix superstar with the amazing head of wavy brown hair, or more like fellow actor Timothee Chalamet, who, BTW, also happens to have an amazing head of wavy brown hair. And if you have never heard of either of these guys before, I really don't know who you even are. Because both of these beautifully gifted creatures are currently blowing up right now thanks to their starring roles in movies Call Me By Your Name (Chalamet) and To All The Boys I've Loved Before and Sierra Burgess is a Loser (Centineo).
Anyway, Dunham thought it would be a good idea to compare them to each other on Twitter, which is totally the type of thing she would speak out against if an older guy attempted to do this with two young actresses. So yeah, the whole thing is kind of shady, and I really don't get what she's doing here.
She started off innocently enough, asking "R u a Chalamet or r u a Centineo?"
And Twitter responded as Twitter does, with a bunch of GIFs and memes:
Good stuff, right? But then in a bunch of follow-up tweets, Dunham decided to try and define who each of these actors is and what he stands for. And just to understand how out of line this is, pretend this is, like, Jonah Hill sending out these tweets about 13 Reasons Why's Katherine Langford and Kissing Booth's Joey King or something. It's gross, right?
"A Chalamet won't call you his girlfriend cuz monogamy is a construct," she wrote. "A Centineo won't do it cuz his insta is blowing up right now."
"A Chalamet pays for deli coffee," she added in another tweet. "A Centineo rents you two a Starbucks."
Obviously, Dunham has a Chalamet bias. And it didn't stop there.
"A Chalamet sends you a postcard from Europe," she tweeted. "A Centineo sends you a balloon with his face on it."
And, finally: "A Chalamet says you look like his mom in photos from the 70s. A Centineo says you look like his gf from camp."
First of all, I'd much rather have a guy tell me that I look like his old camp girlfriend than like his mom. That's just, like, totally weird and Oedipal.
Plus, camp girls are hot and good at dancing around fire, so there's that.
Anyway, it wasn't long before Twitter turned on Dunham, and Centineo fans started coming for her, because, like, was this necessary?
Yes, Lena. Be better.