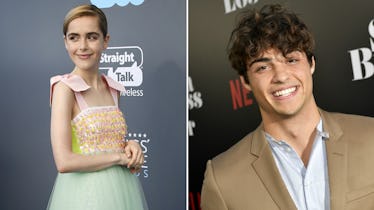 Kiernan Shipka Just Proposed To Noah Centineo On Instagram, Seriously
Frazer Harrison/Getty Images Entertainment/Getty Images; Matt Winkelmeyer/Getty Images Entertainment/Getty Images
OK, confession time: I watched Sierra Burgess is a Loser over the weekend, and then re-watched To All the Boy I've Loved Before immediately after. Because Noah freaking Centineo. I know, I know — the entire internet is crushing on the 22-year-old Netflix star and his amazing head of hair right now, including a certain former Mad Men actress. Have you guys heard about Kiernan Shipka's Instagram proposal to Noah Centineo? I mean, it was actually pretty awesome and now I'm kind of jealous I didn't think to do it first.
Shipka — who is currently filming her own Netflix show, The Chilling Adventures of Sabrina, hit up her Instagram story recently with a very special post just for Noah. The actress posted a pic of a smiling Centineo (seemingly while watching one of his movies) — and OMG THAT SMILE! She posted it along with the caption, "@ncentineo this is an official proposal let me know if you're down and I can make myself available."
First of all, lemme just say that I am SO HERE for girls making the first move. Like, way to take matters into your own hands and shoot your shot, girl! And second of all, I ship this SO HARD. I mean, even Centineo's fans are totally into the fact that Shipka just asked the hottest guy on Netflix right now to marry her.
Check it out:
Even if you aren't here for this pairing — and in which case, what's your damage? — you have to at least admit that Shipka's post is totally adorable. Like, did she just snap a pic of Centineo's disarming face off of her TV or computer screen? Because OMG then girlfriend really is just like all of us.
Of course, Centineo hasn't responded to the proposal yet — at least publicly. And, um, WHAT ARE YOU WAITING FOR DUDE?! Shipka may have gotten her start playing a young Sally Draper on AMC's Mad Men waaaay back in 2007, but she is about to BLOW WAY UP thanks to the fact that she's playing the title role in the Sabrina the Teenage Witch reboot, The Chilling Adventures of Sabrina.
The show is expected to premiere on Netflix in late 2018 — which is, like, kinda soon, you guys! I really, really hope it drops on Halloween night because, OMG, how freaking cool would that be? But whenever it happens, Centineo needs to step up his game and start ring shopping real quick, since I'm pretty sure once the series airs, Shipka will be getting random Internet proposals of her own left and right, you know what I'm saying?
Of course, I'd be lying if I said I wasn't still hoping for Centineo and his To All The Boys I've Loved Before co-star Lana Condor to become a thing, too. I mean, that hand-in-the-pocket spin move they pulled off in the cafeteria scene was beyond epic, and I would KILL to see them create it in IRL on a red carpet somewhere, wouldn't you?
Until then, I'll just be over here watching this on repeat: