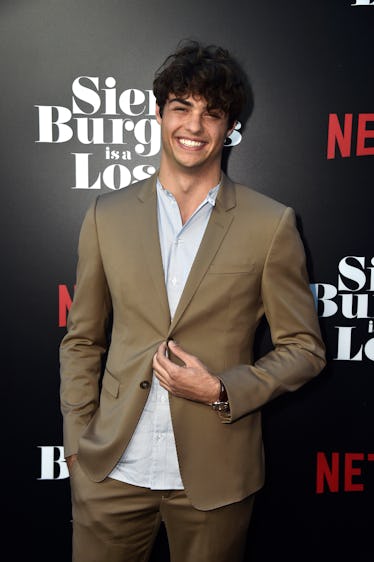 Here Are 7 Glorious Pictures Of Noah Centineo Looking Gorgeous AF, You're Welcome
Frazer Harrison/Getty Images Entertainment/Getty Images
Hey. How are you? If you're good, then I'm about to make things even better. We, the human race, have been blessed with actor Noah Centineo's existence. If you asked us a year ago who that was, we'd be saying "Noah who?" But fortunately, since then, we've seen him in the Netflix movies To All The Boys I've Loved Before and Sierra Burgess Is A Loser, and he has consequently stolen our damn hearts. If I need to give a reason, then you clearly haven't seen him act in either film. I mean, he's dreamy as hell, he's adorably quirky, and his hair-to-scalp ratio is staggering. Plus, he just exudes charm with that smile of his. Instead of telling you about how gorgeous he is, let me show you instead with these pictures of Noah Centineo. I promise that if you're having a bad day, it will turn around real quick after scrolling through this post.
Before you begin your journey, you might want to know the story behind Noah Centineo's face scar, because it will only make him that much more attractive in your eyes.
During an interview with Buzzfeed, he recounted the scary tale about being attacked by a dog when he was younger.
"I got attacked when I was six years old by a Mastiff," Centineo explained. "He ripped a hole in my face, so you could see my teeth, my gums, and all the way through my tongue to the other side. There was a massive, gaping hole."
But because Noah is a kind and gentle human, he was all about ensuring that the dog wouldn't be put down, because the dog simply "didn't know what it was doing."
"I specifically remember him lunging, being pulled away from him, and then looking back and seeing him cock his head like he didn't really understand what happened," he shared. "Some people were like, 'Do you wanna put the dog down' I was crying, like, 'No, he didn't mean to do it!'"
A hundred points for Gryff- erm, Noah Centineo!
OK, OK. I know you're not here to listen to tales of his childhood, so without further adieu, let me present to you the many faces of Noah Centineo.
Here he is with that luscious head of hair and adorable smile:
I mean, there is no contest to who wins happiest-looking human.
And here's Noah looking dapper as heck on the red carpet:
Slay, bay!
Oh, you want a guy that has charisma? Well look no further, ladies:
It's like he's pointing directly into my soul.
If you're wondering how he does in group shots, he freaking KILLS IT:
He'd take center stage no matter where he was in the photo, if I'm being honest.
Now, let's talk about how there's nothing hotter than facial-hair Noah:
Throw all of your grooming products in the garbage, Noah. You clearly do not need 'em.
*Googles "how to become co-stars with Noah Centineo"*
Zero acting experience. Also no singing capability. So, uh, when can I start?
Seriously, you guys, how do I make it happen?
HELP ME, FAM. HOW DO I GET TO BE NOAH CENTINEO'S LOVE INTEREST ON FILM?
Well, that's all for now folks. These photos truly don't do Noah justice, though, so I'll just leave this riiiiight here:
Mhm. You're welcome.