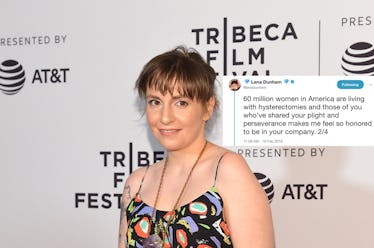 Lena Dunham Opened Up About Her Endometriosis Surgery On Twitter & Fans Are So Supportive
Ben Gabbe/Getty Images Entertainment/Getty Images/Twitter
Lena Dunham has never been one to shy away from honesty or controversial topics. For as long as she's been in the spotlight, Dunham has been an outspoken advocate for equality, authenticity, and compassion across the board. So when Lena Dunham tweeted about her endometriosis surgery, with an emphasis on empathy for all women undergoing trauma due to their struggles with the condition, her fans were nothing but supportive of her important message.
Dunham has been open about her painful struggles with endometriosis for years now, and she's paved the way for a much more honest and public conversation about the condition. In case you don't know what exactly it is, endometriosis is an often-excruciating affliction in which tissue from a woman's uterus lining grows in other places outside of the uterus, including on the ovaries, the fallopian tubes, and around pelvic tissue. It used to be such a misunderstood condition that women simply thought they were feeling awful cramps, but in truth, endometriosis is a pretty common health condition that affects at least 176 million women worldwide, according to the Endometriosis Foundation of America.
Dunham's experience with endometriosis became so debilitating that she made the difficult decision to undergo a total hysterectomy. She first shared the news via an op-ed for Vogue.
Now, Dunham has taken to social media to describe her experience in making this very difficult decision, and what she hopes other women with endometriosis can take away from her story.
And in response, Dunham has seen an outpouring of support from her fans, as well as other women living with endometriosis.
The procedure that Dunham went through is called a hysterectomy. According to the Office on Women's Health, a hysterectomy is a surgical procedure in which a woman's uterus is removed. This incredibly serious surgery will ease Dunham's pain, but it also means that she will no longer have a menstrual period, and it also means she cannot get pregnant. In her Vogue editorial, Dunham explained her decision to undergo such a permanent procedure:
With pain like this, I will never be able to be anyone's mother. Even if I could get pregnant, there's nothing I can offer.
One reason why her fans, as well as fellow women afflicted with endometriosis, are showing the Girls writer so much support, may have something to do with the overwhelming loneliness and isolation that some women experience in having such a painful and often-misunderstood disease. Through Dunham's honesty — and through the honesty of other celebrities like Lady Gaga, who suffers from fibromyalgia, another type of chronic pain — society as a whole is beginning to talk about these afflictions more openly, which can only be a good thing for people affected by similar health conditions.
While a hysterectomy is considered by some to be one of the more extreme, and slightly controversial strategies in combatting endometriosis, particularly for younger women like Dunham, the 31-year-old actress made it clear in her Vogue editorial that the pain and suffering she'd endured for so much of her life had become too much for her to handle.
For Dunham, it seemed the like the only decision left to make — which isn't to say it wasn't still a heartbreaking choice.
In an Instagram post about her hysterectomy, Dunham wrote,
Your body failing you is a loss that's hard to explain and yet the amount of messages I've gotten from women in a similar predicament has been so overwhelming, loving and heartening.
More than 60 million women in America are living with hysterectomies and those of you who've shared your plight and perseverance make me feel so honored to be in your company. Thank you to the village of women who took care of me through this entire process. I have a broken heart and I hear those don't mend overnight, but we are linked forever by this experience and our refusal to let it hold any of us back from even the grandest dreams.
Hopefully, Dunham will be able to take the slow, deliberate process of recovery as privately or publicly as she chooses, and her fans will continue to respect and support that.
For now, her Instagram comments appear to be filled with nothing but love and shared stories. "Sending love," one Instagram user wrote, "was in the same boat... had hysterectomy at 29. Be kind to yourself." Couldn't have said it better myself.