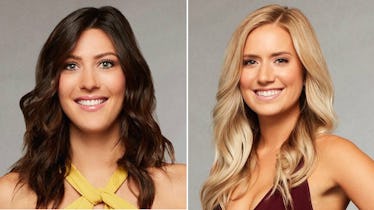 The Difference Between Lauren B. & Becca K.'s Engagement Rings From Arie Is So Telling
ABC
Wow, wow, wow. I am in a state of shock. Just when you're starting to like a guy, he proposes to a woman on national television and then LITERALLY TAKES IT BACK. By now, you've heard/seen/read the news about Arie's proposal to contestant Becca K. on The Bachelor, and how he eventually dumped her to propose to Lauren B. Obviously, fans are wondering what Lauren B.'s engagement ring vs. Becca K's engagement ring looks like, and luckily, the internet is all over it. The difference is only in one or two "minor" details, but still. Wut r we doin, Arie?
You guys remember Arie. He was the lackluster race car driver who spent his season looking mildly invested in the contestants' feelings and emotions. He's a loud kisser, and also gives off some weird Zach Braff vibes. (Honestly, he might be the least memorable part of his season.) Becca K. and Lauren B. are the people you really remember, aka the two ladies who stole Arie's heart in the end.
At the end of his season, Arie got down on one knee and gave Becca K. a gorgeous sparkler and asked her to marry him. In the same episode, he immediately called things off with Becca, and was basically like, "My bad. I kinda wanna marry Lauren B. instead." On After The Final Rose, Arie offered Lauren an equally stunning yet slightly different ring saying something like, "So, what I meant was... LAUREN, will YOU marry me?"
Man, this guy was busy.
Both diamonds came from designer Neil Lane, who let People magazine in on the details of each ring. Lane told the magazine that for Becca, Arie went with a three-carat oval diamond. Lane said,
It's very feminine with a gentle look and soft edges. It has my signature detail under the gallery and lots of little diamonds that make it sparkle. It has a vintage look but with soft and feminine touches.
You can check out Arie's proposal to Becca and the ring he gives her in the clip below.
Despite the care and thought that went into picking out Becca's ring, Lane said he could tell, even then, something was up. He said,
He [Arie] really liked this one ring he felt would be perfect for Becca, but he kept coming back to this other ring, which was completely different, and saying how it would be perfect for this other girl... He was very indecisive and there was a hesitation — and he took the process very, very seriously.
So, what did Lauren's ring look like? Listen, not that it matters, but it was a little bit bigger and a little bit more sparkly. I'M JUST SAYIN'.
For his proposal to Lauren, Arie opted for a 3.65-carat cushion cut stone surrounded by a halo of smaller diamonds. It also features 170 smaller diamonds on the band, and two baguette's flanking the centerpiece.
It's a lot to take in.
Lane explained Arie's decision-making process for Lauren. He said,
When I was told he'd broken off his engagement to Becca and was considering proposing to Lauren, I offered him a selection of rings…but he ended up picking the same one for Lauren that so intrigued him in the first place, back in Peru. It was like kismet.
Even Lane thinks the ring is extravagant. He admits,
It is one of the most highly decorated rings I've ever done. It has a whole different feel — it's not as soft as Becca's and it has lots of personality with many design esthetics.
He also explained the ring is "totally encrusted with diamonds on all three sides," and added,
It's really a wow ring — and for everyone involved, this whole season has been a 'Wow' experience. I really do hope Arie has finally found happiness.
Obviously, Arie is receiving a lot of criticism for the way he handled calling things off with Becca, and then proposing to Lauren while Becca was literally in the same building. However, Arie doesn't seem phased. He told People,
We're so ready for this. Lauren told me I'm four months late on this proposal, and I wanted to give it to her and I wanted everyone at home to share in it.
Right. Thanks for that.
Check out the entire Gen Why series and other videos on Facebook and the Bustle app across Apple TV, Roku, and Amazon Fire TV.