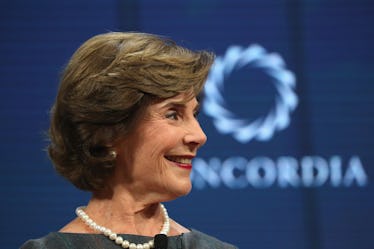 Laura Bush Had A Passionate Response To Trump's Policies Separating Families At The Border
Paul Morigi/Getty Images Entertainment/Getty Images
Over the weekend, a former first lady and fellow Republican raised some eyebrows by criticizing a current administration's policy. In an opinion piece published in The Washington Post on Sunday, June 17, Laura Bush responded to families being separated at the border under the current president's move to crackdown on illegal immigration. Bush's comments came amidst public outcry as the effects of President Donald Trump's harsh new zero-tolerance policy have begun to become apparent.
In the piece for the Post, Bush, the wife of former President George W. Bush, wrote,
I live in a border state. I appreciate the need to enforce and protect our international boundaries, but this zero-tolerance policy is cruel. It is immoral. And it breaks my heart.
Bush added that "it is our obligation to reunite these detained children with their parents — and to stop separating parents and children in the first place." She compared the practice, which resulted in some 2,000 children being detained in a six-week period over April and May, to the internment of Japanese families in the 1940s during World War II.
In a crackdown on of illegal U.S. border crossings, the administration in April moved to tighten immigration "loopholes." In an announcement, Attorney General Jeff Sessions said that families with children wouldn't be any exception, later adding that parents illegally crossing the border should expect to be detained and have their children taken from them. "If you are smuggling a child, then we will prosecute you and that child will be separated from you as required by law," Sessions said in a May 7 speech. "If you don't like that, then don't smuggle children over our border." He reiterated this policy in a June 5 speech.
On June 11, Sessions doubled down on the policy, adding that there would be no exemptions for asylum seekers who were attempting to relocate to the U.S. to escape domestic or gang violence in their home countries.
In a series of tweets also from Sunday night, Department of Homeland Security (DHS) Secretary Kirstjen Nielsen denied that the U.S. had such a policy of separating families despite reports that nearly 2,000 children had already been taken away.
The move by the Trump administration to separate families at the border presumably sought to make good on his campaign promise to crack down on illegal immigration. But the practice has turned even members of his own party against him.
It is a loose rule of thumb that previous presidents refrain from public criticism of a sitting administration. However, Trump has been the exception to that. Former first ladies Hillary Clinton and Michelle Obama have both spoken out against the current president and his policies. But as the wife of a Republican president, Bush's op-ed Sunday marked a new level of disapproval for Trump.
In fact, Bush wasn't the only high-profile Republican to break ranks and condemn the policy move. Even the current first lady Melania Trump expressed her feelings about the immigration policy, saying via a statement by her spokesperson Friday that she "hates to see children separated from their families," although in her statement, she maintained Trump's line that it's a problem to be solved by both side of Congress. Melania, also on May 7, rolled out her "Be Best" campaign, aimed at childhood wellbeing.
The effects of the detainment of children, particularly absent their parents, has become increasingly apparent. A June 16 article in the Post detailed how children as young as two years old were being treated inside the holding facilities. While the children appeared to be safe and fed, one doctor visiting the facility noted, workers were not allowed to comfort the children, who were visibly distraught.
A report published May 23 by the American Civil Liberties Union (ACLU) found that some detained children held in U.S. custody were allegedly subjected to abuse, according to a trove of 30,000 documents obtained by the organization dated between 2009 and 2014. This came just days after reports in late April that the Department of Health and Human Services, after releasing some 7,000 unaccompanied children to their sponsors, had later lost track of the whereabouts of nearly 1,500 of them. Advocates from numerous fields have spoken out on the issue citing, among other things, the effect that separation might have on children.
Bush ended by imploring those in power to do better. "In 2018, can we not as a nation find a kinder, more compassionate and more moral answer to this current crisis?" she writes. "I, for one, believe we can."