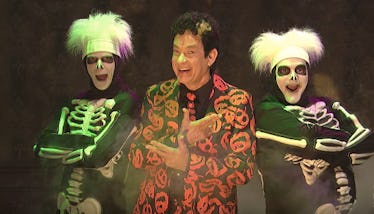 David S. Pumpkins Halloween Costumes That Will Ensure You Have A Hilarious Halloween
OK, I have a confession to make. I hadn't watched the much talked-about David S. Pumpkins sketch from Saturday Night Live until this morning (I know, it's shameful). If you're also new to the David S. Pumpkins fan club, don't worry, there's still time to use him as inspiration for your Halloween costume. Read on to learn how to whip up the perfect last-minute David S. Pumpkins Halloween costume.
First, let's have a little refresher on who exactly David S. Pumpkins is. The sketch first aired on Oct. 22, 2016, when Tom Hanks was hosting SNL. The given name of the sketch is "The Haunted Elevator (feat. David S. Pumpkins)." Um, featuring? Nice try. Pumpkins steals the whole dang show.
The premise of the sketch is that a couple goes on a haunted elevator ride called "100 Floors of Fright." It's normal scary stuff (creepy bride who hangs herself, decapitated heads) until they get to the 49th floor. That's where David S. Pumpkins, who is played by Hanks, shows up flanked by two dancing skeletons. Naturally, the couple is confused by Pumpkins' presence, and they spend the rest of the ride trying to figure out who David S. Pumpkins is. Spoiler alert: they don't figure it out. He's just there, dancing skeletons and all.
In all honesty, I don' think that this is one of the funniest sketches that SNL has ever produced, but it has become a cult classic. After you watch it, it'll be hard not to laugh any time some mentions David S. Pumpkins. If you decide to dress as David S. Pumpkins for Halloween this year, it is sure to be a hit at any Halloween party.
Suit Up
The most important part of the David S. Pumpkins costume is the pumpkin suit. Bobby Moynihan, one of the writers of the sketch, stopped by Late Night With Seth Meyers last month and revealed that Hanks' costume as Pumpkins came straight off the rack from Party City. Unfortunately, that suit is sold out, but you can get a similar version from Amazon for with two-day shipping for $75.74. What better time to sign up for Amazon prime?
You could also glue pumpkin cut-outs to a plain black suit if you're in it for the DIY.
Whichever route you choose, make sure you top it off by spraying white hairspray (found here on Amazon) on a section of hair on the left side of your head. If you're not naturally dark-haired, you can first spray black or brown hairspray to really seal the Pumpkins deal.
If you really want to stay in character all night, make sure you remember a couple of key quotes:
"I'm David Pumpkins."
"Any questions?"
They might seem simple, but when said with a slightly southern, drawn-out accent, no one will mistake your David S. Pumpkins costume for "guy in a pumpkin suit."
Show Some Sidekick Love
If you're not comfortable with being the headliner, you can always dress up as one of the two skeleton sidekicks — just make sure you're prepared with some sweet moves. This is the perfect besties costume (especially if there's a third, more outgoing member of the crew already going as David S. Pumpkins).
When it comes to the skeleton suits, you can buy one from Amazon with two-day shipping. Or, you can get a plain black t-shirt and black leggings, and go to town with some white felt and a glue gun (just follow the patterns the skeletons wear in the video).
As for the hair, it'll be easiest to just spray some white hairspray (found here on Amazon). Top it all off with some white face paint (found here on Amazon), and you're set.
It might seem like a drag to DIY your David S. Pumpkins costume, but if you get to work tonight (Saturday, Oct. 28), the time will fly because you can hot glue as you watch the David S. Pumpkins animated special airing on NBC at 11:30 EST. Plus, it'll give you more time to study up on the jovial Halloween cult classic.
Any questions?
Check out the entire Gen Why series and other videos on Facebook and the Bustle app across Apple TV, Roku, and Amazon Fire TV.