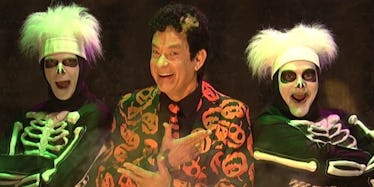 There's Going to Be a David S. Pumpkins Halloween 'SNL' Special, Any Questions?
NBC
The Sanderson sisters, Michael Myers, Jack Skellington. These are just some of the entertainment icons that make you think of Halloween. But there's a new classic repping the holiday... and his name is David S. Pumpkins. Last fall, Saturday Night Live introduced the world to the now-legendary character played by the great Tom Hanks, who confused us all with his utter randomness in a sketch about a haunted elevator ride. Now that he's as integral to Halloween as trick or treating, there's going to be an animated David S. Pumpkins SNL Halloween special so the audience can reunite with the fan favorite in all his pumpkin-suited, techno-dancing glory. Any questions?
If you're not familiar with this sketch, we suggest that you watch it immediately. "Haunted Elevator" involves Kate McKinnon and Beck Bennett going on some sort of amusement ride attraction where spooky things pop out. But one of them just doesn't add up. Tom Hanks portrays David Pumpkins, a dude in a pumpkin-decorated suit who has a pair of dancing skeleton sidekicks for seemingly no reason at all. He's not scary in the least, and the whole thing is just ridiculous. In a good way. Kenan Thompson, as the elevator operator, tries to make sense of David's existence to no avail. Sometimes the most unexpectedly funny things just cannot be explained. See for yourself.
David S. Pumpkins became an immediate sensation, so it's no surprise that SNL is reprising him for an October comeback. Hanks will be behind the role in the upcoming special, of course, and he'll appear in live-action at the beginning. His dancers (Mikey Day and Bobby Moynihan) will also be back to lend their voices. The special will be about teaching two suburban children the "true meaning of Halloween" and we're sure it will be as weird as humanly possible. Oh, and Peter Dinklage of Game of Thrones will also be voicing a character, because why not? The more the merrier. The show will air on Saturday, Oct. 28, so get ready, folks.
"It's scary how quickly the original SNL sketch caught on, and we're thrilled that Tom Hanks is back to keep the fun going," George Cheeks, president of business operations and late-night programming at NBC said of the decision.
Tom Hanks recently teased his return with this tweet, revealing a snippet of a script. Now we get it... even if we still don't quite totally understand who David Pumpkins actually is.
While we don't know much about Pumpkins' past or personal life, one tidbit we are aware of is what that dang middle S stands for. "We said Simon," writer Bobby Moynihan told Huffington Post. "David Simon Pumpkins." And in true SNL fashion, there isn't any real explanation for that. "For no reason whatsoever ... It was a lot of the idea of just, 'Why is this person here?' Because he is. And we just thought that was funny." And so did the rest of America.
Before you tune into The David S. Pumpkins Halloween Special at the end of the next month, don't forget that there's new Saturday Night Live around the corner. The Season 43 premiere is this Saturday, Sept. 30 and the host will be none other than a Mr. Ryan Gosling and the musical guest is Jay-Z.  Other upcoming hosts include Gal Gadot and Kumail Nanjiani. The long-running variety show is fresh off nine Emmy wins, so we're excited to see what they've got up their sleeve. We have no idea if the 2017-2018 season will create a character as monumental as David S. Pumpkins, but we can only hope.
Ready or not... Here. We. Dance?