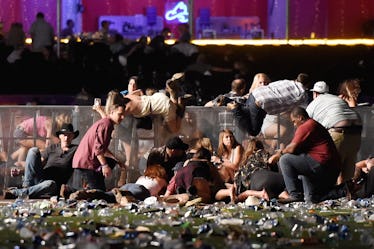 Las Vegas Shooting Victim Jordan McIldoon's Parents Speak Out In Heartbreaking Post
David Becker/Getty Images News/Getty Images
In the wake of the devastating mass shooting in Las Vegas on Sunday, Oct. 1, families are just getting information about their loved ones who were in attendance at the Route 91 Harvest music festival near the Mandalay Bay hotel when shots were fired. Tragically, many families are receiving some horrible news, as the most recent reports estimate 58 deaths and over 500 injuries in what has now been confirmed the deadliest mass shooting in United States history. The parents of one Las Vegas shooting victim, Jordan McIldoon, have shared their reaction publicly in a heartbreaking statement to the Canadian Broadcasting Corporation.
On Oct. 2, 23-year-old British Columbia native Jordan McIldoon was confirmed dead as a result of the Las Vegas shooting. McIldoon was attending the country music festival in Vegas, and a fellow concertgoer named Heather Gooze posted on Facebook that he died in her arms.
When Jordan McIldoon's parents, Al and Angela McIldoon, learned of their son's death, they shared their grief and confusion with CBC. Jordan was the McIldoon's only child.
"We only had one child. We just don't know what to do."
McIldoon's parents confirmed their son was attending the Route 91 Harvest country music festival over the weekend with his girlfriend. McIldoon's girlfriend reportedly survived the shooting, and has been in contact with the McIldoons via phone calls. Jordan McIldoon was a heavy-duty mechanic apprentice preparing to begin trade school back in British Columbia. His parents went on to say their son was a "self-described cowboy boot, tattoo-covered redneck who loved the outdoors."
Jordan McIldoon is one of the estimated 58 people killed after gunfire broke out during a country music festival near the Mandalay Bay casino on Oct. 1. According to the most recent estimates, over 500 more people were injured in the massacre.
Around 10 p.m. during country star Jason Aldean's concert set, rapid-fire gunshots from an automated assault weapon erupted. Videos posted on social media show concertgoers scrambling to get away from the gunfire.
According to authorities, the gunman was believed to be a "lone wolf." When authorities got to his hotel room in the Mandalay bay, reports say he was discovered dead from a self-inflicted gun wound, and at least ten firearms were found in the room with him. The shooter's brother said the shooting is a complete shock to him, since his brother did not have strong ideological or political beliefs that were known to him, nor did he ever reveal himself to be an avid gun owner. The shooter reportedly lived in a tame retirement community in the nearby town of Mesquite, Nevada, and was known to take trips down to Las Vegas to gamble every so often.
Though many states restrict the sale and possession of automatic assault weapons, Nevada state law is notably lax when it comes to gun control. The state places no restrictions on purchasing and carrying machine guns outside of the federal requirements to have the firearm registered. It is also legal to carry an open or concealed weapon into a casino on the Las Vegas strip, although most casino workers will ask gun owners to disarm their firearms or leave the premises.
Tragically, Jordan McIldoon was only one of the dozens of victims to die from the automated open-fire on Sunday, Oct 1. Another Canadian citizen — a woman from the province of Alberta — was also declared dead after the shooting. McIldoon's parents say the Canadian Consulate has been very supportive in keeping them in contact with paramedics in Las Vegas and McIldoon's girlfriend across the Canadian-U.S. border in Vegas as well.