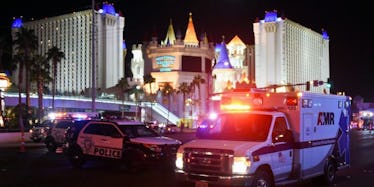 Everything To Know About Las Vegas Gun Laws Following The Horrific Mass Shooting
Getty
On Sunday, Oct. 1, reports started flooding about a mass shooting at the Route 91 Harvest Festival in Las Vegas, Nevada. With over 50 people killed and estimates of over 400 injured, the massacre is now officially the most deadly mass shooting in United States history, surpassing the 2016 shooting at the Pulse nightclub in Orlando, Florida. In the wake of such a devastating shooting, politicians and citizens alike will need to look at Las Vegas gun laws and hope to make some changes to some of the most lax firearm restrictions in the nation.
UPDATE: Authorities confirm at least 58 people died and 515 were injured in the shooting. The shooter has been identified as a Nevada local, he was fatally shot, and this is not believed to be connected to terrorism.
EARLIER: According to the National Rifle Association's (NRA) website, residents of Nevada are not required to obtain a permit or license in order to purchase a firearm, nor do they have to register a purchased firearm. State authorities can issue concealed carry permits to firearm owners, and gun owners are legally able to openly carry a firearm without a permit. The state also does not restrict the sale or possession of machine guns or other automated assault weapons, so long as they are registered and adhere to federal law.
Firearm ownership in Nevada is protected in its state constitution, which includes a statute in its first article ensuring citizens have the right to own guns for lawful "recreational use." It says,
Every citizen has the right to keep and bear arms for security and defense, for lawful hunting and recreational use and for other lawful purposes.
In the case of Sunday night's mass shooting specifically, videos shared from the Route 91 Harvest music festival near the Mandalay Bay Resort and Casino suggest that the shooter used multiple automatic assault weapons to quickly attack concertgoers. In videos captured and posted on social media during the shooting, a number of shots are heard firing off in rapid succession.
The Las Vegas Metropolitan Police Departmentlater told CNN they found at least eight guns and multiple long rifles in the hotel room of the alleged shooter.
Nevada state law does not restrict the sale or possession of automatic assault weapons, only enforcing the federally-required minimum of making owners register their weapons. These types of weapons were previously banned under the 1994 Federal Assault Weapons Ban, but that legislation expired in 2004 and has yet to be renewed, despite several attempts by lawmakers.
According to state gun law site NevadaCarry.com, it is legal in Nevada to carry an open or concealed weapon into a casino on the Las Vegas strip. Though most casinos will ask a guest with a gun to disarm the weapon, there are no laws prohibiting carrying one into a casino on the Las Vegas strip. This also goes for restaurants and bars in Nevada, though it does become illegal to possess a gun if the owner's blood alcohol level rises above .10 BAC.
Although Nevada has some of the most relaxed state gun laws in the nation, the state did recently pass a measure requiring universal background checks for all gun-sellers in Nevada. The resolution passed by an incredibly narrow margin of less than one percent, according to The New York Times. However, the measure was deemed unenforceable by Nevada's attorney general and the FBI, and it was put on hold indefinitely, as reported by the Washington Times.
But now that Las Vegas is the setting of the most deadly mass shooting in United States history, the state of Nevada (and the nation at large) may be revisiting its gun control measures very, very soon. For more information on the specifics of gun control laws in Nevada, visit the NRA's webpage on the state or the state-specific firearm law website NevadaCarry.com.