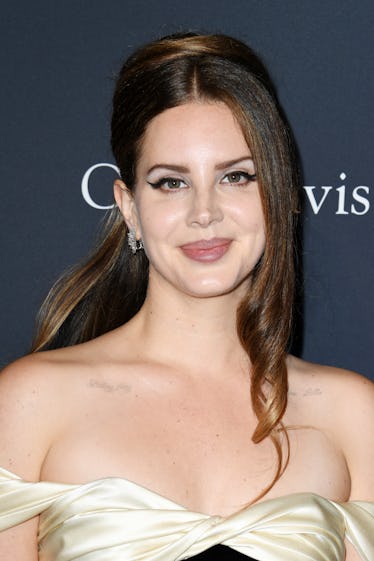 Surprise! Lana Del Rey Is Reportedly Engaged & Her Ring Is A Stunner
Jon Kopaloff/Getty Images Entertainment/Getty Images
Are those wedding bells I hear? On Dec. 14, Lana Del Rey wore what looked like a giant rock on that finger during an appearance on The Tonight Show with Jimmy Fallon, and the next day, a source for People reportedly confirmed fans' suspicions: Lana Del Rey is reportedly engaged to Clayton Johnson, her singer boyfriend of about four months. The two musicians have yet to confirm the engagement rumors themselves, but IMO, that sparkler on Del Rey's finger is pretty telling.
The first time fans noticed Del Rey sporting a diamond was a month and a half earlier on Halloween. On Oct. 31, Del Rey took to IG to share a pic of herself dressed up as Dorothy from The Wizard of Oz, and if you look very closely, you can see the sparkler on her left hand. She later posted a selfie with Johnson (who was dressed as the Scarecrow) on her IG Story, and since she's flashing a peace sign in the pic, the maybe-engagement ring can be seen even more clearly. The diamond seemingly made yet another appearance on her grid on Dec. 12, though it's unclear whether she's wearing an engagement ring in that second pic or if it's the same ring she wore on Halloween.
According to People, Del Rey and Johnson reportedly met on a dating app, and in August 2020, Johnson raised eyebrows when he posted a flirty comment on one of Del Rey's Instagram posts. In response to a video where Del Rey is holding a card in her mouth, Johnson slid into her comments section to quip, "I wish I was that card." Little else is known about the couple's relationship, and the two have yet to even confirm it themselves, though they've shared plenty of snapshots and videos of each other on their IG Stories.
Before Johnson, Del Rey was dating police officer Sean "Sticks" Larkin. The two were first spotted out together in September 2019, and they went on to date for six months before they decided to go their separate ways. During a March 2020 New York Times interview, Larkin confirmed he and Del Rey were "just friends," adding, "We still talk and whatnot, we just have busy schedules right now." By that summer, Del Rey was reportedly loved-up with Johnson.
If the two singers are, in fact, engaged, this will reportedly be Del Rey's second engagement. According to Us Weekly, she and Scottish singer Barrie-James O'Neill reportedly got engaged in summer 2013 after two years of dating, but in June 2014, Del Rey revealed she and O'Neill had broken up. "We are currently not together," she told German-language Swiss paper 20 Minten, per Us Weekly. "He is a wonderful person. But there are some things he has to deal with."
Considering how tight-lipped Del Rey is about her dating life, it's probably going to be a while before fans know for sure where she and Johnson stand.