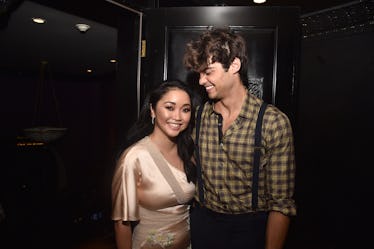 Noah Centineo Had A Swoon-Worthy Reaction To Lana Condor Texting Him That She Needed Him
Alberto E. Rodriguez/Getty Images Entertainment/Getty Images
On a number of occasions, I've considered offering my own hand in marriage to actor Noah Centineo. Because look, as amazing of a person his character Peter Kavinsky is in To All The Boys I've Loved Before, the real-life person somehow seems even better. It sounds nearly impossible, and yet, from all of the stories we hear, it actually seems like the truth. Case in point? Lana Condor's story about Noah Centineo coming to her rescue that it so absurdly charming and sweet, I literally can't stand it.
In an interview with Mashable, Lana Condor, who plays Lara Jean in TATBILB, yet again, proved co-star Noah Centineo's IRL chivalrous nature. She revealed that once while filming the movie, she received some bad news. She knew that by that time, Centineo had already gone out to dinner, so she texted him to ask if he could possibly drop by after he finished his meal to keep her company.
In true amazing human form, Noah dropped what he was doing right at that moment to go be with her and yes, you can start crying now.
She said,
As soon as he got the text, he got the bill, got up from dinner, ran like seven blocks, full sprint, sent me a video — full sprint! — of him running back to our apartment building, ran upstairs, banged on my apartment door, came in, swaddled me like a baby with a bunch of blankets, and then cleaned my whole apartment.
I'm sorry, but HOW THE HELL is this guy real?
That thought is not lost on Condor. "There's a reason the world is thirsting after him. He's a great guy!" she told the publication.
She also told Mashable that she knew Centineo was going to make it big (and have every woman Googling whether or not Noah Centineo is single, but that's neither here nor there), noting that pretty much everyone is "in love" with him:
The world loves Noah, like everyone's in love with Noah. As we were shooting the film I was like, 'Oh my god the world is not ready for Noah, he's just gonna charm the whole entire world,' and he definitely did that.
You bet your ass he did. I mean, just look:
Can you EVEN?
Because I can't even.
The charm overfloweth, you guys.
Condor also revealed what it was like back when she had crushes when she was younger, saying, "In my case, I get really obsessed with the person. I think about them all the time and it's distracting and I can't do anything else!" SAME, GIRL. SAME.
"But having a [pure] crush like Lara Jean and Peter, it just makes you smile and makes you feel happy and makes you feel hopeful, and I love it," Condor said, and does anybody else feel like maybe Noah Centineo and Lana Condor should date in real life and not just while filming?
But sadly, it looks like that's not in the cards (for now), because Lana Condor has been dating her longtime boyfriend, actor Anthony De La Torre, for the last three years, and from the looks of it, the two are totally happy together:
But like, can she and Centineo truly even blame us for wanting the two of them to get together? I mean, the two actors are so cute together that they even have a real-life backstory to the lock-screen on Lara Jean's phone in TATBILB that depicts the two actors napping together — and spoiler alert, it wasn't even staged!
Director Susan Johnson told Entertainment Tonight the adorable story, noting that it was "actually one of our crew members who took that photo" when Centineo and Condor were taking a break from filming together:
They actually were sleeping on the couch in that room like that, so we just stood over them and took that picture and it's so friggin' cute. So yeah, we just borrowed it from our crew member. (Laughs.) There wasn't [a scene]. I could make something up but I actually think it's cute that they hang out like that.
C'MON, YOU TWO! You're killing us with your cuteness!
Until you guys decide that you were fated to be together, I'll just be here swooning over every little thing that you two do.