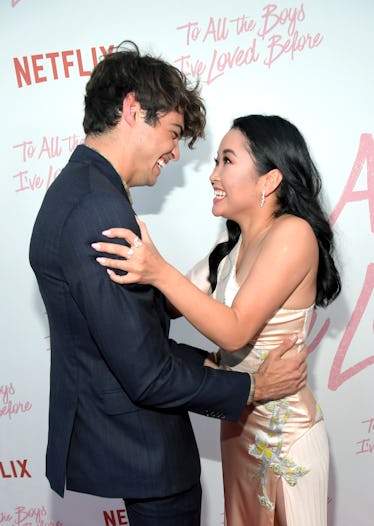 Lana Condor Sent A Message To Noah Centineo To Celebrate His 'Charlie's Angels' Casting
Charley Gallay/Getty Images Entertainment/Getty Images
May we all one day know the laughter, support, and pure joy Lana Condor and Noah Centineo share with one another. The To All The Boys I've Loved Before stars are best buds in real life and most likely the celebrity duo I've personally shipped the most. While they insist they aren't romantically involved IRL, they do share an unrequited love with each other. It's just not "like that." Sigh. Lana Condor's response to Noah Centineo's Charlie's Angels casting is the latest example of what I mean. She is nothing but stoked for her co-star and her genuine excitement over his achievements rings true in her post on Instagram.
Centineo just landed what Variety is calling a "key role" in the iconic reboot and will be playing a love interest to one of the angels. (Obvi.) Centineo has been busy basking in the afterglow of his breakout films TATBILB and Sierra Burgess Is a Loser, which has proven to be a warm-up act for the big screen. The only person who might be happier than Centineo himself is Condor. She shared a so-sweet-it-hurts picture of herself laughing with Centineo on a red carpet with the caption:
I am so unbelievably proud of you and your new casting news!!! It is sooo well deserved and I'm beyond happy for you, go get em love xx @ncentineo 💕
In 18 hours, Condor's post gained 1.5 million hearts. In fact, she actually shared Centineo's good news on Instagram before he did. About a half a day later on Wednesday, Oct. 3, Centineo made mention of his Charlie's Angels casting on Instagram by sharing a funny photo of himself goofing around on a sound stage's lot. He wrote, "Berlin - Charlie's Angels - Short Shorts - I'm ready for you 🎥 credit - @maiamitchell."
Actors Kristin Stewart, Naomi Scott, and Ella Balinska will play the angels (FUN!) in what Stewart describes as a more "woke" version of the familiar plot. The film is also being directed by comedy hero Elizabeth Banks.
In a recent interview during press for her film Lizzie, Stewart took a moment to comment on the reboot. She explained,
There's like a kitsch nature to the last ones that was super fun. But nowadays, if you see a woman in combat, everything should be something completely and utterly well within their ability and they work together really beautifully. There's a whole network of angels. It's not just three. It's like women across the entire globe are connected and helping each other.
She added, "It's still going to be fun and like, whatever, like "Charlie's Angels-y," but will also be current and modern."
This version will also come with 100 percent more Noah, too.
Unfortunately, fans will need to wait for the film to hit theaters on Sept. 27, 2019. In the meantime, they can still swoon over Centineo and Condor's relationship by following them both on social media and/or replaying To All The Boys I've Loved Before again and again.
I've got to get my Noah fix one way or the other, know what I'm sayin'?