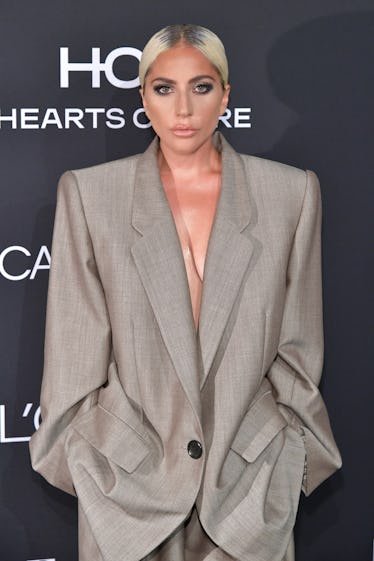 Lady Gaga Ditched Dresses To "Wear The Pants" & Her Speech On Why Will Move You
Neilson Barnard/Getty Images Entertainment/Getty Images
Last night marked the 25th anniversary of the Elle Women in Hollywood Awards, which honors, celebrates, and recognizes some of the most talented women in the industry, both behind and in front of the camera. The entire night was defined by strikingly empowering moments, none more memorable than Lady Gaga's oversized suit and the gut-wrenching speech that it inspired. Yes, the power suit — an oversized menswear-inspired behemoth of a (beautiful) thing by Marc Jacobs — stunned on the red carpet but, as she later revealed on stage, it was selected for so much more than its visual shock factor.
Gaga has never been one to shy away from the utterly unexpected and out there when it comes to red carpets. In fact, she's probably set the bar higher than anyone else in terms of bringing fashion that's fresh (see: her meat dress) and provocative and exciting to such events. So when she arrived to last night's awards show in an oversized suit it didn't necessarily feel that crazy (in fact, it's on the tamer side of what she's worn) and honestly just felt very Gaga. Who knew she'd later reveal that it was one of the most symbolic things she'd ever worn on the red carpet?
Upon accepting her Women in Hollywood award for her role in the new A Star Is Born film, Gaga launched into an entirely unexpected and deeply vulnerable speech that centered on — you guessed it – the suit. If anyone ever tells you fashion is trivial or silly or brainless again just have them watch her speech.
"I spent a lot of time thinking about what I wanted to say tonight," she began. "How does one rise to such an occasion when maybe you don't feel that inside? How does one accept where life has brought them and what it all means?" she asked herself. "As I tried on dress after dress today, getting ready for this event, one tight corset after another, one heel after another, a diamond, a feather, thousands of beaded fabrics in the most beautiful silks in the world....to be honest? I felt sick to my stomach."
She goes on to pose the question of what it really means to be a woman in Hollywood. "We are not just objects to entertain the world. We are not simply images to bring smiles or grimaces to the people's faces." What they are, she says, are people with voices. People with thoughts and ideas whose voices matter and who have the ability, through their platforms, to say things that the public will listen to. In the #MeToo era, this message is important for women in Hollywood and all women to hear—that females are powerful, and never more so than now.
This is where the suit comes in.
"So after trying on ten or so dresses, with a sad feeling in my heart that all that would matter was what I wore to this red carpet, I saw an oversized Marc Jacob suit very quietly in the corner," Gaga says, as members of the audience let out a knowing chuckle. "I put it on, to a resounding view of eyes glaring at me in confusion."
Gaga goes on to recount how everyone in the room prodder her about why she hadn't gone for this designer dress and asked her to consider that sweeping gown. "They were all dresses," she explains. "This was an oversized men's suit made for a woman. Not a gown. And then I began to cry. In this suit, I felt like me today. In this suit, I felt the truth of who I am well up in my gut. And then, wondering what I wanted to say tonight became very clear to me."
Feeling emboldened and empowered and proud and courageous and heard from her speech already? Just wait for it.
"As a sexual assault survivor by someone in the entertainment industry, as someone who is still not brave enough to say his name, as a woman who lives with chronic pain, as a woman who was conditioned at a very young age to listen to men told her to do, I decided today I wanted to take the power back. Today, I wear the pants."
Mic drop. That is the power of fashion. That is the power of Woman. That is the power of Gaga.