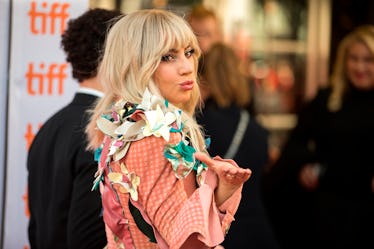 Lady Gaga's Get Well Gifts Are Seriously Friendship Goals
GEOFF ROBINS/AFP/Getty Images
Lady Gaga has been taking time out of the limelight as she battles fibromyalgia. Unfortunately, she even had to postpone a portion of her Joanne tour because of the side effects of fibromyalgia. Luckily, Lady Gaga is not battling this disease alone because of the tremendous platonic backing she has. Lady Gaga's get well gifts are such a beautiful gesture from her friends that we can't help but get major feels as she gives them all shout outs.
Fibromyalgia is a chronic pain disorder that affects your muscles. We all know how much Lady Gaga puts her mind, body and soul into all of her performances, so we can hardly imagine how she feels about facing a disorder that gets in the way of that. Lady Gaga posted pictures of gifts from Gigi Hadid, Beyoncé and the folks over at Oscar de la Renta. What are friends for, right? And because Gaga is clearly incredibly grateful, she shared a photo of each of these gifts, along with a heartfelt caption about who they were from and how much she appreciated them. Yes, friendship goals have definitely been raised just a tad bit. But honestly, if you're a good friend, you already know you'd show the same support to a friend in need. Famous people, in that sense, aren't too different from the average Joe.
Gigi Hadid gifted Gaga with a comfy-looking black and red beanie that any of us would strut in a heartbeat. This beanie is a part of Hadid's Tommy Hilfiger collection. There's no medical proof, but many of us can attest that beanies instantly get you in the mood to slow down and relax. It's really just the small things that can make anyone, even celebrities, feel better in a time when they could really use some support and need to know that their real friends are keeping them in their thoughts.
A couple of weeks ago, Beyoncé sent Lady Gaga beautiful flowers along with a card. Leave it to Bey to continue to show us how much of a genuine person and friend she can be. Gaga wrote under her Instagram post of the flowers,
Thank you so much honey B. Miss you. this was so kind. If I hadn't seen your videos on TV at grandmas house after I got dropped from def jam records, I would have given up. You inspire us all. The dream you embody kept me going.
Beyoncé also left Gaga with an Ivy Park sweater that looks super comfortable. Basically, the perfect sweater for sitting back and building up the strength to feel better as much you can. I'm not crying, you're crying.
We all know how much of a trendsetter Lady Gaga can be when it comes to her style. She can literally pull off any look she decides to wear on a red carpet, during her concerts or just in her everyday life. Oscar de la Renta's team gifted her with a pretty, pink sequined dress that she actually wore to an event to promote breast cancer awareness for her late friend, Sonja' Durham's, birthday. Yes, even in her own trying time, Lady Gaga still selflessly dedicated herself to a cause. Why is she so awesome?
Needless to say, these gifts are only the physical gestures that have made it to social media and on the top of our friendship goals lists. Lady Gaga fans have been sending their best wishes for her to feel better since they found out she was battling fibromyalgia. For now, we're staying posted on any updates to her health on her social media pages. Honestly, we are all rooting for you, Gaga.