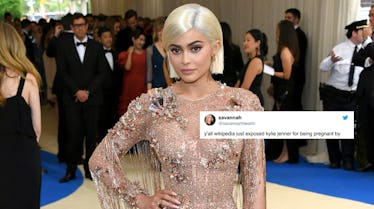 This "Clue" About Kylie Jenner's Pregnancy Announcement Is Making Fans Lose It On Twitter
Dia Dipasupil/Getty Images Entertainment/Getty Images
HOLD UP, everyone. We need to talk about something pretty big. Like, Kim Kardashian revealing her surrogate big. ONLY BIGGER. Apparently, there's been some ~gossip~ going around town that Kylie Jenner's pregnancy was sort of revealed, only not in the way you'd expect. Kylie Jenner's pregnancy announcement "clue" on Wikipedia is making the world go absolutely wild, because, hello, WE'VE BEEN WAITING FOR THIS MOMENT FOREVER, and excuse me, a Wiki-leak is how it might be happening? Sorry guys, but it looks like we shouldn't get our hopes up just yet, because a representative from E! has told Elite Daily the Wikipedia information is false. I know, I know, I'm totally killing your buzz, but somebody has to do it. But even though we've confirmed that these Wiki-rumors are totally not true, that's not stopping fans from freaking the eff out.
Let's get right into it: A Kardashian fan took to Twitter to show a very interesting find when scanning the upcoming episodes of Keeping Up With The Kardashians. On the Wikipedia page under Episode 215's title, "It's a girl!," the details say, "Kylie and Travis Scott begin the quest to determine what puppy to get and start decorating the nursery for the baby!"
I'm sorry, but "It's a girl"? Decorating the baby's nursery? A PUPPY?!
WHUT.
When fans saw this news, they were like, "YES!," because we've been kept so out-of-the-loop when it comes to Kylie Jenner, especially when it comes to Jenner's rare appearances in public and on KUWTK. So to say everyone was just a bit amped at the supposed leak is an understatement:
But, like I said, don't celebrate just yet, people.
In case you didn't know, literally anyone can go onto Wikipedia and alter details from a page... meaning someone probably thought it would be hysterical to fudge the contents of the KUWTK episodes.
So if you actually thought that we'd get some concrete deets on Kylie's reported pregnancy...
Nope. It's not gunna happen.
The latest pregnancy speculation rumor we've been seeing about Kylie is because of the recent photos and video taken by TMZ that show Jenner with Kris Jenner and BFF, Jordyn Woods, walking through what seems to be a construction site. Many fans were convinced that the photos and video were undeniable proof that Kylie Jenner is pregnant:
But many fans were calling out the fact that Jenner is wearing baggy clothes and that the video was poorly shot, and that you can't really confirm much from the images:
I mean, she is wearing baggy clothes that match the car's black interior, so it's difficult to really prove or disprove anything.
But it seems like the construction site that her and her squad were checking out is actually the structure for the mansion that Kylie will be moving into...maybe she's moving into a bigger space because of a baby on the way?
Or maybe it's just a bigger mansion because she's Kylie Jenner and she can do whatever she wants with her millions and millions of dollars?
Will we ever know the full truth? LOL, probably not.
Look, we all have our own thoughts on what's going on. Is Kylie pregnant? Is she Kim K's surrogate? Is she just sick of the limelight and wants to have a little bit of a social media hiatus? (Probably not that last one, TBH.)
While we might never get the answers we so desperately crave, we do know that if Kylie is pregnant, she'll have to be giving birth sometime soon, and the Kardashians can only keep that under wraps for so long, right?
RIGHT?
Help.
And so the saga continues.