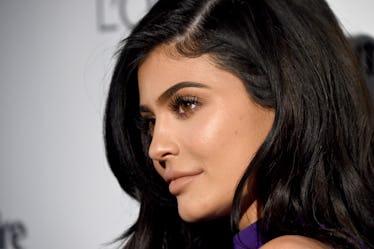 Kylie Jenner Made A Major Hair Change & It Might Be Her Best Look Yet
Frazer Harrison/Getty Images Entertainment/Getty Images
The Kardashian-Jenner ladies are known to change up their looks often, especially when it comes to their locks. All of the sisters make dramatic changes, but the sister that makes the biggest and boldest changes is the youngest, Kylie Jenner. Which is why Kylie Jenner's new blonde hair is so perfect for her. Can I say love it?
I mean it's not like this is the first time that we've seen King Kylie sporting blonde locks. She's become known to wear a lot of different types of wigs, and she even at one point sold her own line of colorful ombré hair extensions (RIP). She's donned blue hair, pink hair, green hair, and even rocked an unforgettable pastel rainbow hair look at Coachella in 2016. Jenner is basically a walking Pinterest board for hair inspo. But clearly blonde is the best look for her, and she has the Instagram post to prove it. In the latest picture that she posted to the social media platform, Jenner revealed her new platinum blonde Daenerys Targaryen style hair to the world with the caption, "i think i was meant to be blonde." And may I just say Kylie, I definitely don't disagree.
In the picture it looks like Jenner may have taken the plunge and fully dyed her hair, which is a seriously major commitment. I don't think we'll fully know for sure if this is the case. But I bet fans of hers are still fawning over this new look regardless of whether or not Jenner is sporting a wig or not. Honestly, I might be pulling up this Insta post at my next visit to my hairdresser. I am seriously loving this look.
Any post that we see from Jenner is getting a ton of attention these days, particularly because we've seen so little from her over the course of the past year or so. On Feb. 4 Jenner finally revealed to the public that she had in fact been pregnant and had given birth to a baby girl, which she named Stormi Webster. During those nine months when everyone was wondering "Is she? Isn't she?" Jenner was barely posting to her social media and laying super low in order to keep her pregnancy private. Which for a Jenner fan was definitely not enough to fill the void.
So now that Jenner is officially a mom and back on her social media game, anything that she does or posts is something that everyone gets excited about. I don't know if it's because everyone missed having her around, but I'm betting that's got a lot to do with it.
I mean, when Kylie posted the video detailing her pregnancy experience to YouTube on the day she revealed that she'd given birth to Stormi, it instantly got thousands upon thousands of views. And by the end of the day I'm sure that it had gotten millions. I've for sure contributed to at least 1 percent of those views, because that video is actually one of the most beautiful things that I've ever seen.
I am definitely excited to see what else is in store for Jenner. I mean the girl is still only 20 years old, so she's got a lot of life to live. Are we gonna see more babies from her and her beau Travis Scott anytime soon? Will they get married? Will she top her pastel rainbow hair at Coachella this year? Is she even planning on going to Coachella? Will she bring Stormi?
I don't know of that last thought is actually a good idea. But a girl can dream, right?