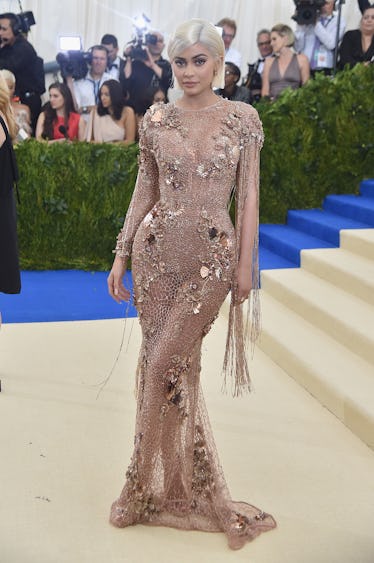 Kylie Jenner's Makeup-Free 'Vogue' Australia Cover Has People Questioning If It's Actually Makeup-Free
Theo Wargo/Getty Images Entertainment/Getty Images
As with most things related to the Kardashian-Jenners, Kylie Jenner's Vogue Australia cover has dropped, and it's already sparking a conversation online. Inside the glossy, the reality TV star opens up to her older sister Kendall Jenner about everything from work to being a new mom. But there's one thing seemingly missing from the youngest Jenner's cover: makeup. Now, considering Jenner has created a beauty empire with Kylie Cosmetics, and even admits to having an "obsession with make-up," some fans aren't exactly convinced that there's truly no makeup on Kylie for her latest fresh-face photo shoot.
The hoopla started once Vogue Australia tweeted out a photo of their September cover on Aug. 17. Naturally, Jenner looks absolutely stunning on the cover. However, shortly after, over 600 replies quickly began to swarm in, with many being pretty critical of the new mom. Some even questioned why Jenner's freckles were absent from the photos. "I'm sorry, but this is a lie," one user tweeted. "It's a very natural makeup look, but it IS makeup. We've seen her without makeup; we know she has TONS of freckles when not wearing foundation. Also her brows are clearly filled in and/or dyed. Let's not forget lip fillers and lash extensions help."
But while she had some critiques, the same Twitter user also made it clear that they were in no way trying to shame Kylie. Instead, they wanted honesty that they felt the photos did not provide. "I think it's important for women to hold up other women and she looks gorg!" the user wrote. "But she is a huge influencer to a lot of young girls, so it's dishonest AND irresponsible of Vogue to act like it's normal for anyone to naturally look like this."
While, in my opinion, this was a fair critique, others left some much unnecessarily harsher comments onVogue Australia's Instagram page, once again accusing Jenner of wearing makeup on the cover. "Her face is full of make up, lips are full of fillers. yaawwwn," one user commented, while another had a lot of say about her alleged cosmetic procedures. "Sad to see a kid personifying major plastic surgery — with nothing to say but 'I'm like obsessed with shoes' on the cover of Vogue," they wrote.
Though some fans are skeptical, an Instagram from Jenner's makeup artist for the shoot, Ariel Tejada, lends itself to evidence of Jenner's face actually being pretty bare. Tejada captioned his post, "This is So Major!! @vogueaustralia I would love to Say Makeup by me! but its Really Moisturizer by Ariel😂❤️ i feel beyond blessed to be apart of this moment with you @kyliejenner ❤️#makeupbyariel#kyliejenner"
It seems like just about anyone who enjoys the fashion bible's Down Under edition has something to say about the cover. However, it is important to note that while Jenner has made some beauty mistakes in the past, it's totally fair to say that the 21-year-old is learning a ton as she goes. And the good news is, motherhood has helped her to look at her body in a whole new light.
"I feel like having a daughter, and thinking about beauty in the future, has definitely changed me, and I feel like it has made me love myself more and accept everything about me," she told sister Kendall in her Vogue interview. "Even my ears, I always felt like they stuck out too far, and she [Stormi] has the same ears as me and so now I love my ears."
She continued that she's adopted this new outlook so her daughter has a good model to follow. "I want to be an example for her. What kind of example would I be if she said she didn't like her ears, and then I didn't like them either?" she said. "I just want to teach her that. I'm trying to love myself more."
Hopefully, this transparency from Jenner in the new Vogue issue can help others to look at her in a new light as well.