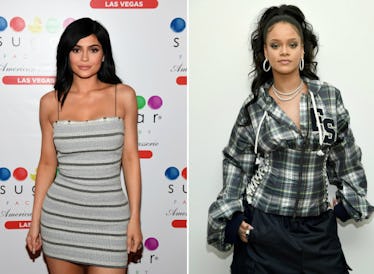 Fenty Beauty & Kylie Cosmetics Are Both Mega-Popular, But One Is Poised To Outsell The Other
Getty
Celebrity product lines have absolutely taken over the beauty industry as of late, which is actually kind of wonderful considering they're legitimately good brands. So good, in fact, that natural competition between them has formed amongst fans. Fenty Beauty vs Kylie Cosmetics has become somewhat of a debate between fans as of late, with each line having its fair share of knowledgeable and very loyal supporters.
Fenty Beauty caused 2017 to be what is, in my opinion, a watershed year for the beauty industry when they released an incredibly inclusive range of foundation available in 40 shades. The range meant that any woman could find a product to match her skin tone perfectly which, sadly, is not commonplace. Time magazine put Fenty Beauty on their 25 Best Inventions of 2017 list, a well-earned shoutout, if you ask me. In an interview with Time, Rihanna said, "I never could have anticipated the emotional connection that women are having with the products and the brand as a whole. Some are finding their shade of foundation for the first time, getting emotional at the counter. That's something I will never get over."
This emotional tie to her brand is likely what earned Rihanna such staunch and understandably passionate followers. That, and the fact that her products are legitimately amazing. (Her being the most badass musician out there doesn't hurt, either.)
Kylie Cosmetics, on the other hand, launched back in 2015, when Jenner released her first collection of Lip Kits. They sold like absolute hotcakes thanks in part to her huge social media following and earned her a devoted fan base that has stuck with her for each product drop since. (They often sell out within minutes.) Kylie Cosmetics products, too, are excellent quality, and Jenner has also ensured that her brand caters towards all different skin tones and beauty aesthetics. (It released its own wide range of foundations in Dec. 2017.) Jenner is a veritable beauty and style icon who is at the epicenter of youth culture and what's cool, so fans trust her taste and know that whatever she puts out will be legitimately good.
Taking all of this into account, it's still shocking to hear the numerical value of the companies. WWD previously reported that Kylie Cosmetics is projected to rake in $1 billion in lifetime sales by 2022, which is an insane number. But what's even more insane is that Fenty Beauty, which hasn't even been around for a year, is projected to outsell both Kylie Cosmetics and KKW Beauty. For all of you who are on team Riri, now's the time to do a happy dance.
According to WWD and research shared by Slice Intelligence, Kylie Cosmetics came out on top for highest yearly sales, but Fenty Beauty sales in its first month of operation were five times higher than those of Kylie Cosmetics, and only on the uptick. Five times higher? That is huge! What's more, the research also showed that Fenty Beauty customers spend more on beauty products as a whole in general. They reportedly spend an average of $471 per year on makeup, compared to customers of Kat Von D who spend $371, KKW customers who spend $278, and Kylie Cosmetics customers who spend $181.
Clearly, Riri and Jenner are both doing way more than fine in terms of business. Their companies are growing, sales are soaring, and their consumers feel genuinely heard and seen by both brands. They've both changed how to the beauty industry operates for the better and have proven that inclusivity is not just emotionally rewarding, but financially too. But when it comes down to it, there's no denying that in terms of dolla dolla bills, y'all, Fenty Beauty is the one cashing in.