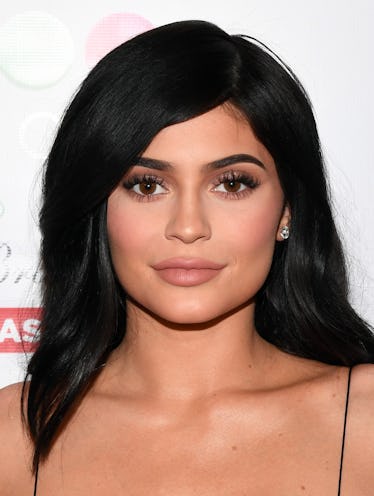 Kylie Jenner Posted The Cutest Pic Of Herself As A Toddler & You Need To See It
Ethan Miller/Getty Images Entertainment/Getty Images
Who said throwback photos can only be posted on Thursday? Well, Kylie Jenner's Instagram photo of herself as a toddler clearly says otherwise. I'm feeling very blessed on this Sunday.
On April 22, Jenner took to Instagram to share an adorable vintage photo of her as a little girl. In the photo, the makeup guru is clearly channeling a Western aesthetic by rocking a all denim two-piece along with a signature wide brimmed cowboy hat. I don't know about y'all, but there's few things I love more than the Jenners and Kardashians posting some precious throwback pictures on social media. They truly have some real gems in that Instagram archive of theirs.
Since Jenner announced she had given birth to her daughter Stormi Webster on Feb. 1, we've all been enjoying the baby pictures and sweet posts from the new mom. However, that doesn't mean that we don't want to see some baby photos of Jenner herself so we can look for those mother-daughter similarities.
There might not have been Snapchat or photo filters around when this photo of Jenner was taken, but that doesn't mean it's any less magical. After all, there are few things better a vintage '90s era photograph.
Just see for yourself.
Even though Jenner and Stormi may not necessarily be baby twins, it's easy to say that cuteness definitely still runs in the family.
On Feb. 4, Jenner took to Instagram to announce that she had given birth to Stormi Webster. In the post, Jenner also shares the reason why she kept her pregnancy such a secret, saying that she wanted to keep this experience out of the public spotlight.
She wrote,
I'm sorry for keeping you in the dark through all the assumptions. I understand you're used to me bringing you along on all my journeys. My pregnancy was one I chose not to do in front of the world. I knew for myself I needed to prepare for this role of a lifetime in the most positive, stress free, and healthy way I knew how. There was no gotcha moment, no big paid reveal I had planned. I knew my baby would feel every stress and every emotion so I chose to do it this way for my little life and our happiness. Pregnancy has been the most beautiful, empowering, and life-changing experience I've had in my entire life and I'm actually going to miss it. I appreciate my friends and especially my family for helping me make this special moment as private as we could. My beautiful and healthy baby girl arrived February 1st and I just couldn't wait to share this blessing. I've never felt love and happiness like this I could burst! Thank you for understanding.
I might have been a little salty at first, but hearing Jenner explain her reasoning definitely made me understand her side. Plus, her pregnancy might have been secretive, but she's clearly a lot more open sharing photos of Stormi recently.
On April 19, Jenner shared some photos of her and "bff" Stormi chilling on the patio while rocking matching all white ensembles (naturally).
Stormi is just a few months old and is already more fashionable than me. To be honest though, I'm not even mad at it.
With parents like Kylie Jenner and Travis Scott, I wouldn't be surprised if Stormi Webster became the best dressed baby of 2018. I, for one, would like to campaign for an outfit that mirrors Jenner's western cowboy throwback look. Just picture Stormi rocking an all denim outfit along with a cowboy hat on top of that little head of hers.
I'm already crying just thinking about it.