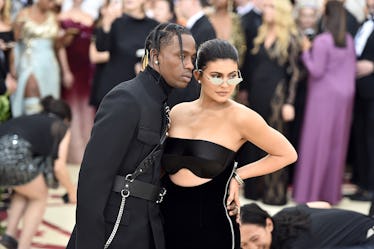 Kylie Jenner Just Called Travis Scott "Hubby" Again On Instagram, So I'm Losing Count
Theo Wargo/Getty Images Entertainment/Getty Images
Kylie Jenner, girl, are you married or not?! Tell me right now, immediately! Just kidding, you don't owe me anything. But like… are you married? Kylie Jenner and Travis Scott have been giving fans reasons to scratch their heads over the status of their relationship. Thanks to the couple referring to each other as "hubby" and "wifey" on the 'gram for a while now, fans are starting to wonder if Stormi's parents actually got secretly married. And Kylie Jenner's Instagram about Travis Scott's MSG concert doesn't do much to dispel any conspiracy theories. Elite Daily previously reached out to Jenner and Scott's teams for comment on whether they are married, but did not hear back at the time of publication.
Jenner and Stormi were backstage at Scott's concert at Madison Square Garden on Nov. 27 when Jenner posted the latest photo to pique fans' curiosity. "The look ya give when ur hubby is performing at madison square garden tonight 👀," she said in the caption. The pic showed her lounging on a chair, seemingly backstage at MSG, wearing ASTROWORLD merch and sporting a look of pride on her face. It's also a peak "my boyfriend is very talented and successful and very hot" look, which I mean, is totally fair. But is he your boyfriend and you just call him hubby as a nickname, or is he your actual husband?! I need answers, Kylie!!
Jenner posted the photo that was seemingly taken from backstage at Madison Square Garden.
She and Stormi have been accompanying Scott on his ASTROWORLD tour, making it a ~family~ affair.
Scott also posted the sweetest videos of Stormi bopping around backstage while watching her dad perform. (She was watching a live feed of his concert from backstage, it looks like.)
"MSG ALL RAGERS INCLUDED," he said. Very. Cute. Baby.
Jenner also posted a video from the concert in Manhattan that showed the insane set Scott had set up. It was a literal roller coaster that Scott rode through the audience. Big up to the people who spent hours setting that puppy up.
Scott didn't post anything about his "wifey" during his MSG concert, but he did recently raise some eyebrows when he was flat-out asked by paparazzi if he was married to Jenner.
As Scott made his way to the Red Rabbit Club in New York City on Nov. 25, TMZ asked him straight-up if he and Jenner had tied the knot. Scott's answer was to not answer at all, but neither confirming nor denying the rumors doesn't do anything to quell them. TMZ released a video of the exchange showing Scott ignoring the question (which is fair, he doesn't have to answer).
On Oct. 15, Jenner stoked the marriage-rumors fire even more when she shared a video with fans with a telling caption.
"Just because flowers are the best kind😫😫😍 thank u hubby," she said in the caption. The video shows Jenner's house decked out in pink and white flowers that Scott had apparently given her.
Just a few days earlier, on Oct. 7, Jenner called Scott her "hubby" as she posted shots of him performing on Saturday Night Live to her Instagram story.
On Jenner's birthday on Aug. 10, Scott called her "wifey" as he posted some of his favorite photos of them to commemorate her big day.
"Happy bday wifey I love u mommy," he said in the caption. "U my heart rib toes and all. May GOD continue to bless u and ur spirit. This mark in ur life is the start to more greatness."
It's possible that the two quietly got married following Stormi's birth. If Justin Bieber and Hailey Baldwin can stroll into a courthouse on a random day in September and get legally married, there's no reason Kylie Jenner and Travis Scott couldn't forego the whole engagement phase and stroll on over to a courthouse themselves.
My money is on them not actually being married, however. To me, it seems more likely that "hubby" and "wifey" are sweet nicknames they call each other. Given that they're co-parents to Stormi and have their own little family starting up, those nicknames would fit.
A source did tell Entertainment Tonight, however, that marriage has been on the table since Stormi was born in February. "Kylie and Travis have been inseparable lately, and their love for Stormi just seems to bring them closer every day," the source told the outlet in August. Another source told the outlet that the pet names are just that, and are inspired by how much they love each other. "It was just a term of endearment," the source said.
With Kylie Jenner's secret pregnancy earlier this year, she taught us she has no issue keeping huge news private if that's what she wants to do, so don't hold your breath for any wedding announcements.