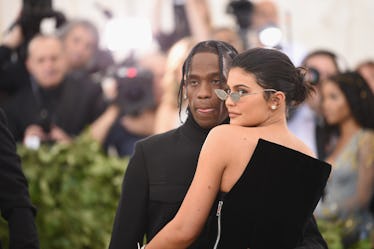 Travis Scott Had A Mysterious Reaction To Being Asked If He's Married To Kylie Jenner
Jason Kempin/Getty Images Entertainment/Getty Images
It's well-known that TMZ's reporters are usually great at getting exclusive info from the stars. But when it comes to Kylie Jenner and Travis Scott, they haven't been so lucky. On Sunday, Nov. 25, TMZ published a video in which a reporter asked Scott if he and Jenner had tied the knot. And his answer was just as mysterious as their whole relationship has been. So, did Kylie Jenner and Travis Scott get married? If they did, Scott certainly isn't spilling the beans.
Let me set the scene for you: Scott was on his way into the Red Rabbit Club in New York City for a bit of fun and music when TMZ caught him on the street and asked him flat out if he and Jenner were married. Scott didn't even acknowledge the question or the reporter for that matter. So, what does it all mean? Well, there are two possibilities: either they're not married, or they are and just don't want to say anything. Elite Daily previously reached out to both Jenner's and Scott's representation for comment on whether they are married, but did not hear back at the time of publication.
This isn't the first time questions about Jenner and Scott's possible marriage have come up. In fact, Jenner herself has fueled the marriage rumors one or two times in recent months. For example, on Monday, Oct. 15, Jenner shared an Instagram video of a gift Scott gave her with a caption that suggested they might be married. In the video, Jenner pans over to a huge floral display that Scott gave her.
Jenner captioned the post with, "just because flowers are the best kind😫😫😍 thank u hubby."
For reference, this is the video Jenner posted on Instagram on Oct. 15:
Several fans took notice of Jenner's reference to Scott as her "hubby" and that definitely raised some eyebrows and even more questions.
One fan even dared to ask the question that everyone was thinking. "Hubby?? Married & we don't know it yet ?!?!?" they wrote.
Another fan actually suggested they were, in fact, married. "He calls her wifey, I think they're already married just saying," the fan wrote.
So, Jenner's been calling Scott her husband for a little while now. She did very much the same in early October, when Scott appeared on Saturday Night Live. In an Instagram Story, Jenner shared a video of Scott performing on the show and in the caption she wrote, "hubby 😍😍😍."
As you can see, the questions about them being married aren't new. Besides, they might as well be married at this point. They have a child together and a source told Entertainment Tonight in August 2018 that Jenner and Scott have been discussing marriage ever since their daughter Stormi was born.
"Kylie and Travis have been inseparable lately, and their love for Stormi just seems to bring them closer every day," the source said in ET's Aug. 24 report.
"When Kris [Jenner] sees Kylie and Travis together, she's convinced they're on the right path," the source revealed. "At first she worried about Kylie starting a family so young because she felt she had no say. Kris knows Kylie does what Kylie wants, so Kris just had to hope for the best."
So, if Scott and Jenner aren't married already, then they might be very soon. Whatever the situation is, it's quite clear that they're totally committed to each other!