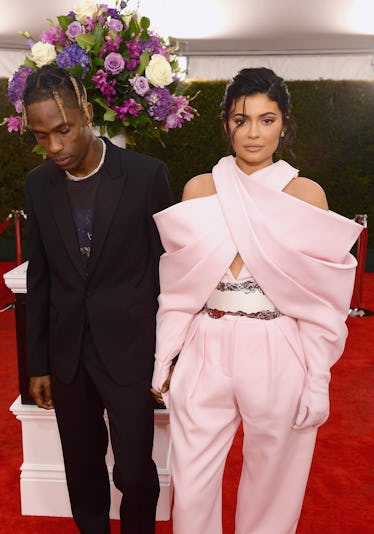 Kylie Jenner & Travis Scott's Body Language At The 2019 Grammys Is So Unlike Them
Matt Winkelmeyer/Getty Images Entertainment/Getty Images
This year's Grammy Awards was a big one for Travis Scott and Kylie Jenner. Scott was nominated for three Grammys including "Best Song" and "Best Album," and was slated to perform, so of course all eyes were on the two when they hit the red carpet. Of course, Jenner did not disappoint when she arrived in an epic, sculptural Balmain jumpsuit. Absolutely stunning. But here's the thing: For as gorgeous as they looked together, Kylie Jenner and Travis Scott's body language at the 2019 Grammys was, well... kinda weird, actually. Especially for such a big and momentous night.
They seemed subdued in front the camera, and even a little disconnected, experts say. That seems odd for a couple who is so clearly into each other, as Scott has gushed to Rolling Stone. "I need her with me to operate. She's that one... We'll get married soon. I just gotta sturdy up — I gotta propose in a fire way" he told the publication. It's hard not to root for these two.
So, to help decode some of Jenner and Scott's confusing body language at the Grammys, I reached out to experts for their take on this couple's red carpet vibe. Here is what they see.