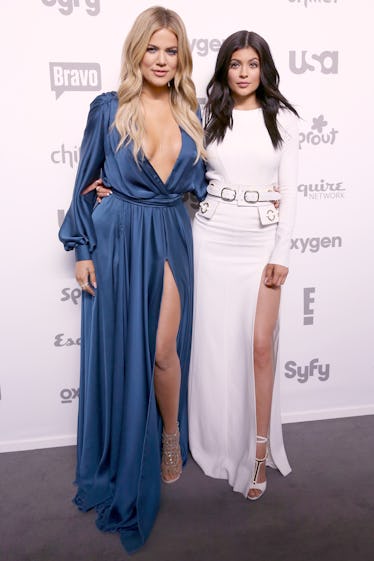 Kylie Jenner Revealed What She & Khloé K Were Doing While Hiding Their Pregnancies
Robin Marchant/Getty Images Entertainment/Getty Images
It suddenly seems so long ago that it almost feels like it never happened at all. But rewind, say, six months, and remember how amazing it was that two of the Kardashian-Jenner sisters were pregnant at the same time, and another was expecting her third baby via surrogate? Ah, memories! But now that all three of the little bambinis — all girls! — have arrived, we're finally getting some details about Kylie Jenner and Khloé Kardashian's pregnancy experiences, and I, for one, am so, so excited! After all, they did such a good job of keeping things on the down-low that Khloé waited a full three months after the first reports surfaced to announce that she was pregnant and Kylie never even confirmed her pregnancy until after she had already given birth to daughter Stormi.
Now, in an interview conducted by none other than her big sister Kim Kardashian for Evening Standard, Kylie opened up about what it was like to be preggers at the same time as Khloé. "It was so much fun," she said. "We would just experience everything together. I was a little bit ahead of her, so we were both doing it for the first time and I would just like warn her of things that happened… the amazing things that are going on, and feeling the baby for the first time. So we would talk, like, on a daily basis about everything."
I don't have a sister, so I'm super jelly about the relationship between these two and I am seriously living for their bond. The lip kit mogul even explained how much she needed KoKo in the delivery room with her, even though it probably freaked Khloé out about having to eventually deliver her own baby.
"I really needed her," she told Kim. "I needed Khloé in the room with me. I think it made her more scared. She was there for all my other sisters. She's just very, very nurturing. So she really helped me through the whole thing. Everyone should have Khloé in their delivery room."
Kim also asked Kylie about how she is dealing with the early stages of motherhood — you know, the ones where the baby never sleeps and so neither do you? Those first few months can often be challenging at best, but the reality star seems to have taken everything in stride.
"I feel like it's just been so amazing, and so much fun," she told Kim. "I'm learning so much more about myself and life, and it's been such a great experience. Of course there's hard times and stuff… even in the beginning, just not sleeping, the nights, like, baby blues… and all the ups and downs."
She also admitted that it's difficult for her when she has to go out without Stormi. "It was so hard to leave this morning," she admitted. "I'm like, 'I'll be right back, I'm so sorry, I have to leave!' and she doesn't even know what's going on. I think about her all the time, anywhere I am. I can't wait till she can come everywhere with me, because right when she's old enough I'll bring her everywhere."
I seriously cannot wait for that day!
And speaking of Stormi, Kylie also shared a little inside scoop regarding how she and boyfriend Travis Scott came up with her name.
"I really don't know how we thought of Storm," she said. "Her dad insisted it was him, but I feel like it was me. And then I didn't really like just Storm — I didn't feel like that was her name. So then it became Stormi. And it just stuck. I feel like there were a lot of other names that I might have even liked better to be honest, but I feel like Stormi picked her own name."
Sounds like a true member of the Kardashian-Jenner fam to me!