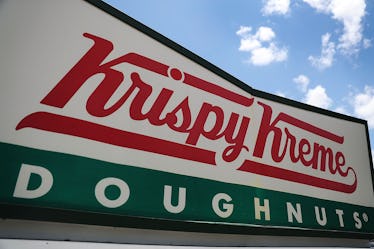 Krispy Kreme's Newest Doughnut Is Filled With Nutella, & I Need It Now
Joe Raedle/Getty Images News/Getty Images
If you can't resist your sweet tooth and are always looking for new opportunities to find the latest delectable goodie, you're (probably) in luck. Krispy Kreme's new Nutella doughnut, which the brand announced via Instagram on March 5, is finally here, and I think I speak for all of us dessert lovers when I say that it looks obsessively delicious and might be a game changer in the world of cream-filled doughnuts. Seriously — in one glance, you might be ready to ditch your reliance on the company's chocolate ice custard filled, or glazed with kreme filling, doughnuts forever. (When you see it below, don't say I didn't tell you so.) However, in order to experience the chocolatey treat, you might have to travel a ways for it.
According to a post from the chain's Instagram page, the dessert is simply Krispy Kreme's original glazed doughnut — packed with the nutty, flavorful spread to create a rich "surprise." Translated from Spanish, the caption of the post read,
If you love #OriginalGlazed 😍 Now a surprise is inside! Try the new Original Glazed stuffed with Nutella today 🍫🍫 ... stuffed with the richest temptation 🤤 # KrispyKremeDR * Available in all branches ...
While the post might seem like enough to have you pumped and on your way to the nearest Krispy Kreme shop for your own little piece of chocolate heaven, there's a catch in all of this: the doughnut is only available in "all branches" in the Dominican Republic. That's right, according to Cosmopolitan.com, in order to get your hands on the dessert, you'll have to take quite a trip.
The doughnut shop didn't leave us hanging completely, though.
Before some of us (me) throw tantrums over this betrayal of sorts, Krispy Kreme is offering a couple of goodies to its customers at locations around the world: green doughnuts and Hershey's Gold doughnuts.
On March 16 and 17, in honor of St. Patrick's Day, the doughnut shop will be offering green doughnuts to customers at participating locations. According to Jackie Woodward, Chief Marketing Officer of Krispy Kreme, the dyed treats are a crafty way to celebrate the holiday. She said, "Krispy Kreme O'riginal Glazed Doughnuts are fun to eat all on their own, so we thought there is no better way to dial up the fun than going green for St. Patrick's Day."
But if you're anything like me and are looking for a treat that's more in line with the Nutella doughnut, the chain has something in store for us, too. The Hershey's Gold doughnut, created with the original glazed cake, smeared with a salted caramel drizzle and peppered with Hershey's Gold bar bits, was described by Woodward as "the perfect balance between smooth and crunchy." Since the treats are also only available for a limited time and have received that kind of co-sign, you'd better act fast before they're all gone.
Nutella doughnuts aren't the company's first collaborative experiment.
Though Krispy Kreme doughnut and Nutella spread sounds like the ultimate combination for dessert lovers, the company also partnered up with Reese's in 2017 to produce the exclusive Krispy Kreme Reese's Peanut Butter Doughnut. According to a news release, the peanut buttery treat was "filled with a Reese's Peanut Butter Kreme filling, dipped in chocolate icing and topped with a chocolate and peanut butter drizzle, and Reese's Mini Peanut Butter chips and peanuts."
Woodward added that the partnership was inspired by the people who have enjoyed chocolate and peanut butter for years, according to USA Today. "The matchmaking of chocolate and peanut butter is a delicious combination that consumers have enjoyed for generations," she said. "We're satisfying an intense desire that Krispy Kreme and Reese's fans never knew they had."
Maybe that's the reason behind the chain's latest Nutella collaboration: fans who have enjoyed plastering their baked goods with the sweet, savory spread over the years. But there just has to be more of us Nutella lovers out here than those living in the Dominican Republic. IDK, but if you're heading there for spring break, maybe you can bring me one back. Or perhaps if you live there, you can mail it to me. Please?