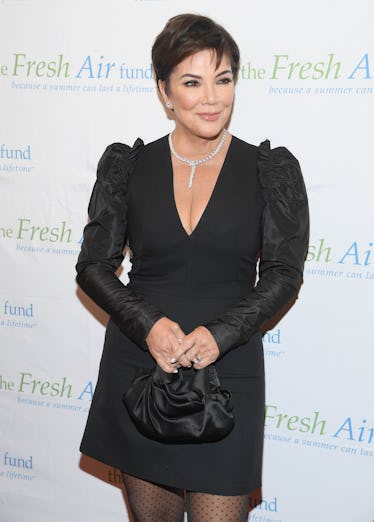 A Major Person Is Missing From Kris Jenner's Photos From MJ's B-Day Party
Dimitrios Kambouris/Getty Images Entertainment/Getty Images
Oh, Kris Jenner. You silly, silly icon. Only you can get away with posting birthday photos from your own mother's birthday party without including the guest of honor and get away with it. Fans are laughing at Kris Jenner's photos from MJ's birthday party because the famous momager managed to post a whole series of pictures from the celebration with not one photo of the birthday girl. Can you believe it? (I can.)
If you keep up with the Kardashians then you know that they all somehow stem from the world's sweetest, kindest, gentlest, most patient woman on reality TV. Kris Jenner's mom, lovingly referred to as MJ, is celebrating her 85th birthday on Friday, July 26, but was treated to a little soiree a week early. The whole gang turned out including Kris Jenner and her kids Kourtney, Kim, Khloé, Kendall, and Kylie and most of their kids, like North, Saint, Chicago, and Psalm West, Penelope and Reign Disick, True Thompson, and Stormi Webster.
Somehow, Kris managed to snap photos with seemingly everyone at the party except her own mom. Most of the relatives went to town posting pictures from the get together on Instagram and Kris treated herself to a little carousel of pics with her party people. She seemed to have some self-awareness because she captioned the photo series: "My squad celebrating MJ's birthday! #love #family #rideordie." (Has no one taught this woman that the more generic your hashtags are the less traction your posts get? *eye roll emoji*)
Kris' pics feature her daughters Kendall and Kylie, family friends Faye Resnick and Cici Bussey, boyfriend Corey Gamble, and few other familiar faces. MJ is nowhere to be found.
Fans sounded off the comments writing things like, "MJs birthday but there aren't any pics of MJ," "Was MJ in the bathroom or something?," and, "Poor MJ didn't make the cut." Some of my other favorite comments include:
"Lmao, I literally just came to the comments to see if anyone else wondered where MJ was!"
"It was MJ's birthday and they decided to throw a party for themselves."
Mjs party with NO MJ LMAO classic kardash behavior.
Y'know what these pics are missing? MJ
love that MJ is not even in any of these pics HAHAHHAHAHA.
You know you've messed up when your post warrants a bunch of "ha's" in all capslock.
Still, something tells me Kris is unfazed. I can practically hear her in my mind like, "But MJ doesn't even have Instagram!" Plus, in true Kardashian fashion, it looks like MJ's party was glamorous AF. The rest of the family posted various videos and photos from the party, which included a gorgeous cake and warranted at least one awesome group shop with the birthday girl front and center.
This polaroid of most of the gang has been making the rounds:
MJ, if you invite me to your 86th birthday party, I promise to make an entire collage of just you and share it with my 968 followers. How's that for a happy birthday?