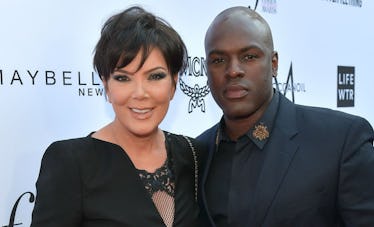 Kris Jenner Totally Just Hinted She's Engaged To Corey Gamble, So Yes, I'm Shook
NEILSON BARNARD/GETTY IMAGES ENTERTAINMENT/GETTY IMAGES
Kardashian family matriarch Kris Jenner turned up on The Late Late Show with James Corden on Tuesday, Aug. 7, to play a game of "Spill Your Guts or Fill Your Guts," a segment that basically involves answering a bunch of super personal questions about yourself, or being forced to eat disgusting things like a cow's tongue or 1,000-year-old eggs. SO GROSS, right? So OBVIOUSLY the hilarious host used the opportunity to ask the momager about that huge rock she's been sporting on her wedding finger. "Are you and Corey Gamble engaged?" he inquired. And, like, well done, sir. Because Kris Jenner's hint about being engaged sure makes it seem like we may be hearing wedding bells sometime in the not-too-distant future!
At first, Jenner tried to play it coy. "No," she replied, as she delicately picked up a piece of cricket from a bowl in front of her and began to survey it.
"You mean, 'No, you're not going to answer?' Or 'No, you're not engaged?'" Corden asked.
"No, I'm not going to answer," Jenner responded.
Corden then gestured to her left hand and was all, "The ring's right there, it's a real giveaway." But Jenner remained chill AF and simply held up her left hand to show off the impressive piece of ice that's taken up residence on her fourth finger. "This is NOT the ring," she said, because when you're a Kardashian, non-denial denial is pretty much a way of life.
"But there IS a ring!" the host fired back, and then they both cracked up over the whole "gotcha!" moment and Mama Kris did the most bad*ss thing ever — she popped that piece of dead cricket in her mouth and she freaking ate it!
Watch:
Such a boss move. She also drank a sardine smoothie instead of answering another one of Cordon's inquiries — this one, about which one of her daughters she would cut from Keeping Up With The Kardashians and why. I probs would have been like "Um, does Scott count?" But Jenner just picked up that drink and started guzzling — and by that, I mean she took one teeny sip and then promptly chased it down with water. But still, the whole thing was totally impressive, so mad props to this lady! She's definitely not afraid of a challenge.
Jenner was first spotted in her maybe-it's-an-engagement-ring-maybe-it's-not while getting out of her car in Beverly Hills on Wednesday, July 25. And you know what? Even if she and Gamble never do make it down the aisle, I'm still really happy for her. I mean, it's been four years since the pair first met at a party in Ibiza back in 2014.
"She was looking good," Gamble explained on an episode of KUWTK. "I came up and started talking, then I asked her to get up on stage and dance, so we started dancing." Hmmm. I met my husband while dancing on a pool table, so maybe couples who dance on top of things together, stay together?