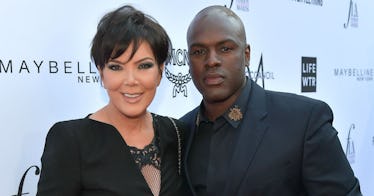 Kris Jenner Was Seen Rocking A Huge Diamond Ring On THAT Finger & OMG
Neilson Barnard/Getty Images Entertainment/Getty Images
Kris Jenner and Corey Gamble have the most private relationship in the Kardashian/Jenner family. I literally know nothing about their relationship, and they've been together for years. But I guess knowing they've been together for years is... something? Anyway, no news is good news, so these two seem to have been going strong for a while. Now just imagine the excitement Kris stans felt when Kris Jenner was spotted rocking a huge rock on the ring finger of her left hand. Y'all, is Kris Jenner engaged to Corey Gamble? Elite Daily reached out to Jenner's team for comment on the ring, but did not hear back by the time of publication.
According to People, Kris Jenner was seen getting out of her car in Beverly Hills on Wednesday, July 25, wearing a huge diamond ring on her left ring finger. She was also wearing a diamond band, which to some could look like an engagement and wedding ring pairing, but Jenner and most of her daughters all have similar bands and wear them frequently. (Kylie Jenner and Khloé Kardashian wear bands like their mother's a lot, as seen on their social media, but it's not clear if Kim, Kourtney, and Kendall also have the same bands.) You can take a look at Kris Jenner's massive diamond ring here. What do you think? Engagement ring, or not an engagement ring?
We all know Mama Kris loves her diamonds (never forget when she asked her daughters to have her ashes turned into a diamond when she dies), so it's entirely possible that she just bought herself a rock (or that Gamble bought her one). I mean, she has the money and we all know she has the drive. Why the hell not? But it's also entirely possible that Gamble popped the question to Jenner after years of being together. Husband number three, here we (might) go! Let's talk about those diamond bands real quick, though.
You can see a similar diamond band in Khloé Kardashian's pregnancy announcement from back in December.
You can also see what appears to be a super similar band on Kylie Jenner's Instagram.
And here's Kris Jenner wearing what appears to be the same diamond band (well, in this case, three of them) at the 2018 MTV Movie & TV Awards. (Peep her left hand.)
It looks like that diamond band is more of a mother/daughter thing than an "I'm engaged to Corey Gamble thing," but that new rock she's rocking? I don't know, guys. That looks a hell of a lot like an engagement ring to me.
While the couple has been together for four years, People previously reported that it's not likely that the pair will ever get married. A source told the outlet in June of 2017 that Jenner and Gamble "will never get married," saying she's "basically his sugar mama." Can I just say that I absolutely hate the assumption that just because Kris Jenner is 62 and, well, Kris Jenner, and Corey Gamble is 37, it must mean their relationship is more based on money than romance? Because I truly do hate it.
I do believe, however, that Jenner and Gamble don't plan on getting married. It just doesn't seem like it's in the cards. Jenner has been there, done that with marriage. She and Gamble have been going strong for four years without being married, so I have a feeling she's going to pull more of a Kourtney Kardashian and Scott Disick and be together, just without marriage (and babies) being involved.