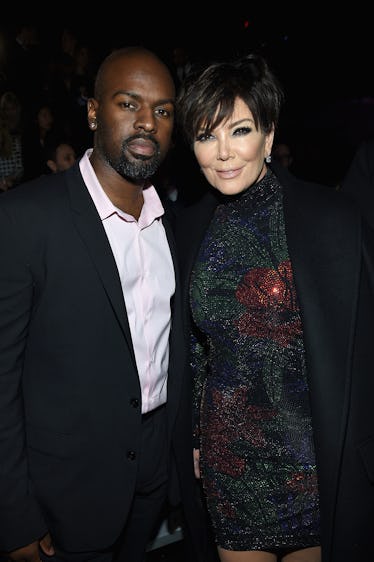 Kris Jenner & Corey Gamble's Astrological Compatibility Shows Their Connection Is So Hot
Dimitrios Kambouris/Getty Images Entertainment/Getty Images
I have to confess: I don't know a ton about Kris Jenner and Corey Gamble's relationship. Despite the family seeming to be ubiquitous in every single form of media, they have managed to somehow stay somewhat below the radar with the intimate details of their lives. For what is arguably the most famous family in the world, it's actually pretty extraordinary that we know so little about this couple. That is, until you take Kris Jenner and Corey Gamble's astrological compatibility into consideration. Suddenly, we have a lot more insight into the dynamics of this relationship.
So, here's what we do know about Jenner and Gamble. In an episode of Keeping Up With The Kardashians, Gamble told the story of how he and Jenner met at a party in Ibiza in 2014. Gamble spied Jenner and thought, "She was looking good, and I waited until she was off on her own. I came up and started talking, then I asked her to get up on stage and dance, so we started dancing."
Despite their age gap (Jenner is 62 years old and Gamble is 33), the couple began dating, and are still together four years later. Honestly, folks, that's just about all we know about the relationship, aside from some rumors that it's been rocky. There was a short period of time when Khloe Kardashian and Gamble had some tension between them, but for a family that really puts all their business out the world, this level of privacy is pretty surprising.
Since they aren't talking much, it's time to turn to the stars to see what insights they can give us about this couple. Truly, once you take their astrology into consideration, it all starts making since. As it turns out, both Jenner (born on Nov. 5) and Gamble (born on Nov. 10) are Scorpios. Here's what that means for their astrological compatibility.