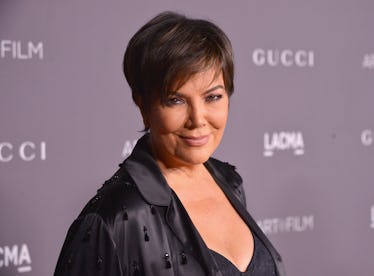 Kris Jenner Went Undercover To Go Christmas Shopping & Looked Unrecognizable
Charley Gallay/Getty Images Entertainment/Getty Images
My favorite Kardashian-Jenner fluctuates from season to season, but one thing stays steadfast — my undying love and devotion to Kris Jenner. This woman cannot be stopped, and she has low-key taken over every aspect of our lives with her family. Fame comes with a price — no member of the Kardashian-Jenner clan can go anywhere without being flooded with paparazzi. Kris Jenner's disguise to go Christmas shopping is so funny, but actually understandable.
In the upcoming holiday special of Keeping Up With The Kardashians on Nov. 26, Jenner and family friend, Jonathon Cheban, get dolled up to go holiday shopping. Jenner dons a bright blonde wig while Cheban gets an... interesting look with a fuzzy beard and mustache. Jenner says in the video,
In recent years, it's become a little more challenging to go shopping, to say the least. Because we start to get recognized, and the minute you take a selfie with someone, everyone wants a selfie — and then I get distracted, and I can't get my shopping done. So leave it to Jonathan: He thinks it would be a really good idea for us to go in a disguise.
She continued,
It's the perfect solution to not really being able to concentrate and focus on our Christmas list
Jenner and Cheban are honestly the best pair, they should get their own spin-off show. Ryan Seacrest, if you're reading this, please try to make this happen.
In case you didn't know, the Kardashian-Jenner's take their holidays VERY seriously. In the same upcoming episode, Kim, Kourtney, and Kris go shopping for holiday decor. They're in a super glitzy store that has tons of giant light displays.
The sisters had a little spat last year that involved the copying of holiday lights. Needless to say — sharing holiday decor is NOT a thing sisters do. This year, Kim put out a warning to her family. The starlet says in the video,
I have warned everyone that I will come for them if they even dare try to copy anything that I'm doing this holiday season.
Truly frightening. I would never want to be on Kim K's sh*t list.
As the ladies kept perusing through the store, Kim decided it was safest to keep her ideas to herself. She said,
I want like a real bark tree. But I won't tell all my ideas out loud, my mom is somewhere lurking.
Kris "lurking" in the video is seriously so, so funny. Kourtney flatly says that she is going for the "same vibe as last year." Kim puts an abrupt stop to the conversation when she says,
Well, why don't we not talk about our vibes. That way, no one can like, steal a vibe.
I don't have a sister, but the Kardashians make it look like a rip-roaring good time. Lucky for fans everywhere, there will be another sister added to the family when Kim's third child arrives.
Although Kim and Kanye are having their third baby via surrogate, North is already buzzing with excitement over having a sister.
Kim told Ellen DeGeneres on Nov. 15,
My daughter [North West] thinks she's really tricky. We had a baby shower over the weekend. I thought, 'I really do want to have a baby shower because I want her to feel that something's coming and for her to really understand it.' People brought toys and gifts. She was opening them all up the next day and she said, 'Mom, Baby Sister's not here. I think I need all of her toys in my room. I'll play with them and just make sure they're OK for Baby Sister.'
THEY ARE GOING TO BE THE CUTEST SISTER DUO, I CAN ALREADY TELL. While the Kardashian-Jenner sisters may drive each other crazy sometimes, we still love watching them. Good luck this holiday season, Kardashian-Jenners.
Check out the entire Gen Why series and other videos on Facebook and the Bustle app across Apple TV, Roku, and Amazon Fire TV.