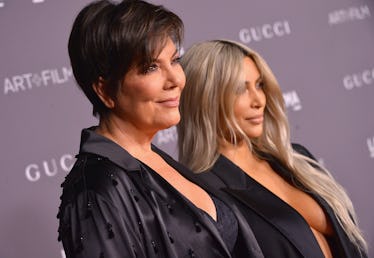 Kim K Revealed Kris Jenner's Christmas Decorations On Snapchat & We Are So Jealous
Charley Gallay/Getty Images Entertainment/Getty Images
When it comes to Christmas and the Kardashian family, it's always a battle to Keep Up. It's no secret that the world's most famous momager is obsessed with decking the halls of her home better than anyone else. And this year, Kris Jenner's amazing Christmas decorations are so extra, she definitely wins the "most festive" prize.
OK, so there's probably not an actual prize. But Kris should find consolation in the fact that daughter Kim was so impressed with Mama J's major ode to the holidays this year, that she couldn't wait to show off the merrily be-decked Calabasas mansion to daughter North (4), and son Saint (2), — and, of course, to all of us over on her Snapchat.
Thanks for the early Kristmas gift, Keeks!
"So, my favorite thing to do is drive around the town and show my kids all the Christmas tree lights," Kim says in her first Snap. "They haven't seen my mom's house decorated yet."
So what did the over-the-top matriarch do for 2K17 that was so damn impressive? Well for starters, she went with a whole rainbow theme this year. Pretty cool, right? And the outside of her house was adorned with a whole fleet of giant Nutcrackers and tons of twinkling multi-colored lights all over the place.
Pretty stunning!
Once inside, we got to see the magnificence continue on not one, not two, but FOUR rainbow ornament-bedecked trees on beautiful display in Kris' foyar.
"So, she did it differently this year," Kim explained in her voiceover. "She used to do a huge tree, but now she's done four smaller trees, all in rainbow, really classic and pretty."
We couldn't agree more.
And check out this lovely little vignette:
I mean, how much do you want to just go curl up in that fluffy chair over there in the corner?
"Oh my gosh, you guys, are those real reindeer?" Kim asks her kiddos.
"No, they're not," North tells her, and we can almost see her shaking her head as she adds, "They're not walking."
Kim quickly points out that the mouths open and close, but little miss thing is still not having it. Nice try, KKW. And who wants to bet that when North grows up one day and decorates her own house for the holidays there will be real live reindeer walking around?
"Remember that time grandmom tried to trick us with fake reindeer? So lame."
She had to have been impressed with this next piece of decor, however — a massive red mirrored polar bear!
So cool!
Of course, Kris did already use the bear last Christmas, back when she went with a whole "Kandyland" theme and invited Architectural Digest into her home, so we're gonna go ahead and shave 10 points off her final score.
"Mason decided it's a boy," she told the publication about the bear at the time. "And his name is Christmas.'"
Too cute! And speaking of Mason, the little guy is currently off celebrating his Dec. 14 birthday at Disney. Mom Kourtney shared this pic of his adorable Mickey Mouse-themed birthday cake over on her own Snapchat story:
So cute, right? She also posted a video of fireworks, a lit-up Eiffel Tower, and the castle on display at night:
And it looks like Mason also scored a custom Ferrari made entirely out of balloons.
Is it wrong to be jealous of an 8 year old? Asking for a friend.
But if one thing is clear, it's that everyone in the Kardashian fam knows how to go all-out when it comes to celebrating, no matter what the occasion — and that's exactly why we love them.
Merry everything, guys!