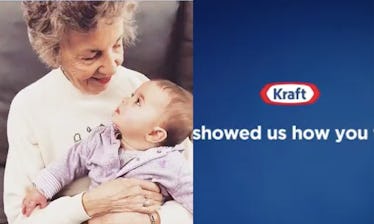 Kraft Shared The Sweetest Super Bowl Commercial About Family & It Will Melt Your Heart
Kraft/Kraft
No two Super Bowl commercials are the same. But this year, Kraft's Super Bowl commercial is fundamentally different than any other televised ad out there because it was built from scratch on the fly today. While other companies prep their commercials for weeks or even months before the big day, Kraft took a chance on assembling an innovative 30-second spot, well, on the spot.
The ad features photos and videos that depict families of all types cuddling, dancing, playing with pets, surrounding each other in a hospital bed after the birth of a new addition, playing with footballs, taking selfies, and more. The voiceover, which played over cheery music, said:
Tonight, thanks to all the photos and videos you shared, you showed us thousands of ways to family. There's this way, those ways, even that way. And you know what? We think every single one of them is a great way. Because there is no one right way to family. So do what you do. Family how you family. We'll be there for you tonight and every night that follows.
The commercial felt family-friendly, inclusive, and upbeat. And the inclusion of real Kraft lovers' family photos and videos made for an unforgettable commercial during a night jam-packed with cool content.
Starting at 6 a.m. EST on Game Day, Kraft fans could send in photos and videos for inclusion in the ad on Twitter and Instagram using the hasthtag #FamilyGreatly and #KraftEntry. Kraft also ran an ad just prior to the game itself to explain how viewers could participate in the project. Photo collection ran until 8:30 p.m., at which point, the advertising and public relations firm Publicis Groupe stitched them together to craft the commercial, which aired during the third quarter of NBC's broadcast of the game. If Nielsen's estimates for last year's audience held true for this year's audience, the commercial was seen by a casual 111 million people.
Here are some of the entries that Kraft could have chosen from.
The entries were really heartwarming, and it must have been difficult to narrow all of the choices down to just a few for a 30-second spot. But even given the brevity of the commercial, the brand packed in so many beautiful family moments.
Prior to the big day, Kraft's director of brand building, Anne Field, was coy about exactly who would appear in the ad. "Anybody could be in it," she told Variety.
"We're calling on all families, families like yours — however you define it — to show us all the great ways you family," Field told CNN Money. "Because as long as you do it with love and conviction, there's no one right way to family."
Since December, Kraft has aimed to appeal to families of all kinds, whether you're related by blood or have come together by choice, through the brand's "Family Greatly" campaign. The new direction stems from research that shows meals are an opportunity for families to come together to bond and enjoy quality time.
The commercial is Kraft's first foray into the Super Bowl. It cost $5 million to make, CNN Money reports.
While the concept of a commercial edited on the day it airs is unusual, Kraft isn't the first company to try it, according to Variety. Last year, Mars' Snickers ran a live spot during the Super Bowl LI featuring Adam Driver, and Hyundai aired footage taken that very day from an overseas U.S. military base just after the game ended.
As Kraft showed tonight, there's no one right way to family — and no one right way to make a memorable Super Bowl commercial.