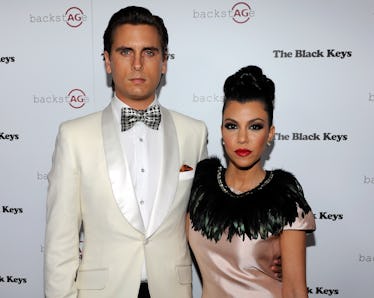 Kourtney Kardashian's Quotes About Scott Disick Are Actually So Cute
Ethan Miller/Getty Images Entertainment/Getty Images
In case you haven't heard, Kourtney Kardashian is back on the market after her recent split from Younes Bendjima. Fans are now speculating about whether or not she and Scott Disick are going to take another stab at their on-again, off-again relationship. Will they? Won't they? The answer is still unclear, but in the meantime, Kourtney Kardashian's quotes about Scott Disick are sure to warm your heart and give you an teensy bit of hope.
To give you a quick run down of their relationship, the two began dating right after they met at Joe Francis' house in Mexico in 2006. They had a pregnancy scare in 2007, but besides that the couple was smooth-sailing until 2009, when they broke up for the first time after Disick was caught texting someone named "My Wife." The birth of their first child, Mason, brought them back together for a short time before Disick's alcohol consumption caused Kardashian to threaten to take Mason away if Disick didn't get his drinking in order. In 2011, Disick proposed to Kardashian, and she turned him down. But they did have another baby, Penelope, the following year. By the end of 2014, the couple had their third child, Reign. A few months later, the two split up again, after pictures emerged of Disick partying with his ex. By December 2016, the two were reportedly back together, but shortly after the two split again after Disick was photographed all cuddled up with two models in Miami. Since this split, the two have switched from dating-on-and-off, to happily co-parenting. Disick is currently dating Sofia Richie, and until recently, Kardashian was dating Bendjima.
Now that she's single again, only time will tell what will come of Kardashian and Disick. For now, let's just bask in the sweet things she once said about her "soulmate" in the past.