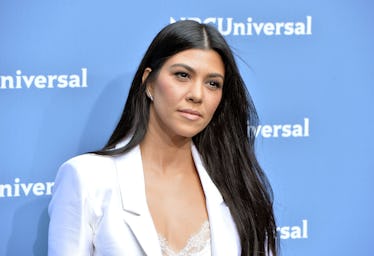 Kourtney Kardashian Posted Another Happy Family Photo With Scott Disick On Thanksgiving
Slaven Vlasic/Getty Images Entertainment/Getty Images
Happy Black Friday, everyone! If you've already finished your shopping or you're staying far, far away from the crowds today, you might be wondering what else is going on in the world like, say, with the Kardashians? While I woke up this morning still digesting my Thanksgiving feast, according to her Instagram, Kourtney Kardashian woke up today rested, surrounded by family, and super thankful. The Kardashian/Jenner clan posted some amazing holiday photos and Insta-stories over the last few days, but Kourtney Kardashian's photo with Scott Disick on Thanksgiving is truly a portrait of a happy modern family, and I'm certainly grateful for it.
In case you're not fully versed in all things Kar-Jenner, the Keeping Up With the Kardashians star and former-boyfriend Disick have three children together — Mason, Penelope, and Reign — and while they're separated, they clearly make peaceful co-parenting a priority. This Thanksgiving holiday was no exception, and Kardashian captioned her adorable family post with a sweet sentiment, "I woke up this morning in bed with my children, in the same house as my sisters (minus @khloekardashian 😩😢i miss you), my brothers, the father of my kids, my mommy, my grandma, my nieces and nephew. I feel beyond grateful. Happy Thanksgiving!" It's clear that Kardashian and Disick are able to not only put their differences aside, but actually enjoy time together with their family for the benefit of their three children.
While the image of the pair with their children has some people curious about the chances of a reconcilliation, both Kardashian and Disick have been linked to other people. Disick is currently dating model Sofia Richie, and Kardashian was recently spotted with actor Luka Sabat at Diddy's birthday bash. While Disick has been dating Richie for over a year now, he only recently introduced her to his baby mama.
On Nov. 4, Kardashian, Disick and Richie met out for dinner, and then were spotted together again just weeks later on Friday, Nov. 16 at an art exhibit. The groups arrived separately and were not photographed together, per People, but that's not surprising, considering Kardashian and Richie just met under these circumstances and probably aren't going to be super-instant BFFs. While there was no sign of Richie at any of the Kardashian Thanksgiving festivities, these two public get togethers indicate that Richie isn't going anywhere anytime soon, and the two exes are working to create an amicable environment for their family.
As Kardashian's Instagram post indicates, her family is the most important thing to her and she's beyond grateful for it. While celebrity breakups and custody battles are typical tabloid fodder and sadly almost feel commonplace, Kardashian and Disick's current relationship is truly co-parenting goals. They both live their lives, have other romantic relationships, and yet can still come together harmoniously for the benefit of their kids. That's not to say they haven't experienced their fair share of relationship drama, but at least for now, that seems to all be in the rear view mirror.