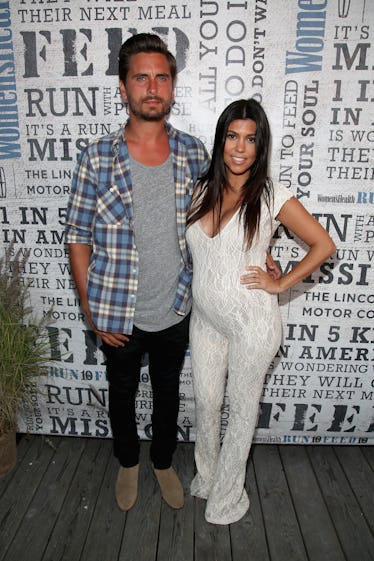 Kourtney Kardashian & Scott Disick Make Co-Parenting Look So Fun In This Vacation Photo
Paul Zimmerman/Getty Images Entertainment/Getty Images
If you need further proof that this is the age of amicable co-parenting, just head on over to Kourtney Kardashian's Instagram. It's no secret that the Keeping Up with the Kardashian star has got the whole friendly exes thing with former boyfriend Scott Disick down to a tee, which includes continuing to take vacations together with their three children. On Friday, Nov. 16, she shared a rare photo of her family all together in Bali, and unsurprisingly, Kourtney Kardashian's Instagram with Scott Disick and their kids is basically schooling everyone in how to win at co-parenting.
On Friday, Nov. 16, the TV personality appeared to have her ex-boyfriend on her mind as she shared a throwback photo from their family trip to Bali in October 2018. The candid shot shows Kourtney and Scott, as well as their sons Mason and Reign, striking silly poses and cheesing for the camera, and basically looking like they're having the best time. Unsurprisingly, people are freaking out. Fans quickly swarmed the photo's comments section to ask if Disick and Kardashian have gotten back together or are planning to in the very near future. Even though Disick is currently dating Sofia Richie and Kardashian has recently been linked to Luka Sabbat, it's impossible to ignore just how insanely happy they look in that moment, and people are really shipping the idea of a potential reconciliation.
TBH, I think there's a small part of everyone that is rooting for them and hopes that they end up together someday (we know at least sisters Kim and Khloé do), and Kourtney posting photos like this helps true stans keep that hope alive.
Unfortunately, though, for the moment it looks like Kardashian is just reflecting on good times from the family vacation. As I mentioned earlier, it's not a recent photo (the candid image was apparently snapped by Khloé during the Kardashian clan's Indonesia trip back in October), and neither Kourtney nor Scott posted any photos of just them together from the trip. Plus, it appeared that Kardashian finally met Disick's current girlfriend, Sofia Richie, for dinner on Monday, Nov. 5, per People, so that probably means that things are getting more serious for them.
At the time, an insider told E! News, "Scott and Sofia are very serious and Scott felt it was important that Sofia and Kourtney interact and bond. They have kept things separate for over a year now, and Kourtney is now more open and willing to have a surface level relationship with Sofia."
The source continued, "Scott and Kourtney both agreed it is better to get the elephant out of the room and for them to all be in each other's lives in order to make things flow easiest for the sake of the kids."
In other words, it looks like these former lovebirds are making co-parenting their priority and getting their kids comfortable with their modern family, not planning a romantic reconciliation, but hey, a girl can dream. If anything, their purely platonic relationship seems to be a healthy one, and it looks like they're having fun with it.