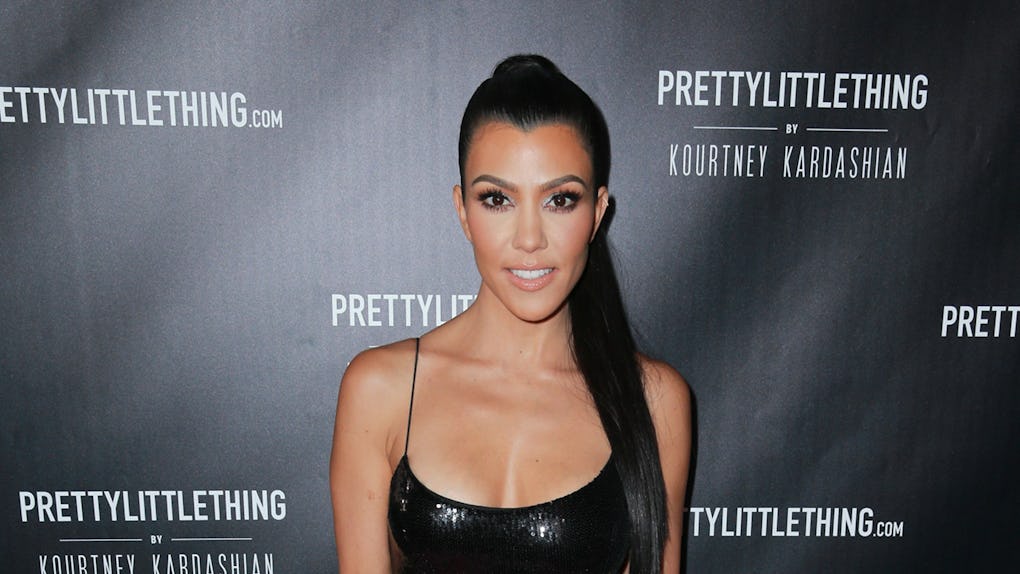 Rich Fury/Getty Images Entertainment/Getty Images
Kourtney Kardashian's Go To Breakfast Will Wake Up Your Taste Buds In The Best Way
Every group of sisters has its labels. My oldest sister, April, for example, is the nice one. The second oldest, Katie, is the funny one, and I've been dubbed the health-conscious one of the three — sound familiar? TBH, I don't regularly keep up with the Kardashians, but I've always been fascinated by Kourtney's eating habits. As a self-proclaimed foodie, I'm constantly impressed by just how regimented the 39-year-old mama's diet is. But these days, the eldest sis is changing up her meal plans to embrace the ways of moderation and simplicity, and Kourtney Kardashian's go-to breakfast is now looking colorful, palatable, and oh-so Insta-worthy.
You might not be up on all things Kardashian, either, but I'm pretty sure that, unless you live under a rock, you've probably heard the chatter over whether or not Kourt actually follows a healthy diet, or if she's just overly meticulous with what she puts in her body. Personally, it's really none of my or your business — that's between Kourtney and her doctor — but I still find myself mindlessly scrolling through her social media accounts to see what she eats in a day, both for food inspiration, and out of blatant curiosity. Seriously, if you haven't noticed, this girl changes up her food regimen all the time.
In 2016, for example, Kourtney explained on her app that she and her children were following a gluten- and dairy-free way of eating after their family doctor said they all showed sensitivities to corn, gluten, and dairy. Fast-forward about a year or two later, and Women's Health reports that the 39-year-old Kardashian went keto for a few months after her doctor spotted high levels of mercury and lead in her system.
Who knows where Kourtney's diet will be a year, or even a week from now, but as of today, this girl's all about her morning smoothie bowls, and I'm so here for it. Now, eating like a Kardashian is pleasantly aesthetic, and not nearly as restrictive, so you can easily do it, too. Here's how you can make Kourtney Kardashian's go-to breakfast work for you.
Load Up On Greens
Per the breakdown of Kourtney Kardashian's go-to smoothie bowl on her app, half of the ingredients incorporated into the base are greens. This specific recipe calls for one cup of de-stemmed kale, and one cup of spinach, but I'm sure you can modify depending on the types of dark, leafy veggies you like. Also, don't worry about the taste, because the fruit flavors will come through even more than the bitterness of the greenery.
So, why a green smoothie and not solely fruit-based? Well, for one thing, it's a sneaky way to add in a serving or more of veggies. Plus, kale and spinach are loaded with vitamins A, C, E, and K, as well as a significant amount of fiber, antioxidants, iron, and more essential nutrients, according to the United States Department of Agriculture.
Add In Some Healthy Fats
Kourtney's all about tossing some avocado into her smoothie bowl base to check healthy fats off her list. Again, you're really not going to taste the avocado here; the fruit is just going to enhance the creamy texture, with the added bonus of incorporating even more nutrients into this delicious breakfast.
Besides the fact that avocados are a great source of healthy fats, Healthline notes they offer a ton of nutrients like vitamins C, E, K, and B-6. Avo is also amazing for your heart, and it can help improve your vision and digestion, according to Medical News Today.
Combine Greens And Healthy Fats With Your Favorite Fruit
Some people put together smoothie bowls made up of predominantly greens, with just a few pieces of banana to even out the playing field. If that sounds tasty to you, do you girl, but if you're interested in what Kourtney's got goin' on, there's a decent balance between fruits and veggies in her bowl. Her staples to sweeten up the dish: pineapple and banana.
Both fruits are loaded with fiber, but they also squeeze in some other benefits here and there. Pineapple, for example, is rich in manganese, which is a mineral that's good for your bones, as well as for your collagen production and antioxidant defenses. As for bananas, they're so high in potassium, that one serving makes up 11 percent of your daily intake. Pretty awesome, right?
In addition to using them as the foundation of her smoothie bowl, Kourtney also tops her breakfast with slices of fruit. This way, she fits in multiple servings of nature's candy, without having to endure a grassy taste on her tongue.
Sprinkle A Bit Of Bee Pollen On Top
100% Raw Bee Pollen, $23.99, Beekeeper's Naturals
Trust me, a few years back, I would have read this suggestion and thought, "no way." But bee pollen is quite buzz-worthy (pun definitely intended) around the health and wellness world these days, and for good reason: A little sprinkle of the stuff goes a long way.
According to Dr. Josh Axe, D.N.M., C.N.S., D.C., founder of DrAxe.com, best-selling author of Eat Dirt, and co-founder of Ancient Nutrition, bee pollen contains "almost all of the nutrients required by the human body to thrive." Pretty impressive, don't you think? It reduces inflammation, has antioxidant properties, boosts the immune system, and helps to relieve stress on top of it all. I don't know about you, but I personally wouldn't skip out on this unique topping.
Add A Spoonful Of Chia Seeds For Texture
Organic Chia Seeds, $9.49, Carrington Farms
I used to get so skeeved out at the idea of releasing a tablespoon of chia seeds into my water bottle or mixing a dash into my oats, but these babies are a staple in my diet now, and clearly, the oldest Kardashian is a fan, too.
Chia seeds have earned their "superfood" status because, let's be real, anything that small, that still boosts a ton of nutritional value, deserves some recognition. Not only are chia seeds loaded with fiber and omega-3 fatty acids, Prevention reports, but they're also considered a complete protein and they keep you hydrated throughout the day.
Overall, this smoothie breakfast bowl is bursting with flavor, not to mention it's super filling, hydrating, and TBH, just plain pretty. It sounds like a winner to me — thanks for the rec, Kourt!