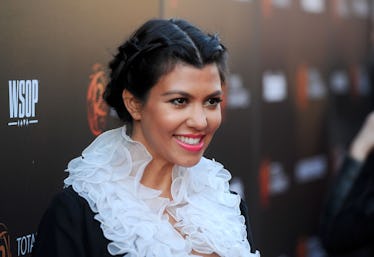 Kourtney Kardashian Was Perfectly True To Herself While Speaking To Congress
Michael Buckner/Getty Images Entertainment/Getty Images
On April 24, Kourtney Kardashian met with members of Congress in efforts to give the Food and Drug Administration (FDA) more control to regulate the ingredients used in cosmetics and personal products. But the best thing about Kourtney Kardashian's congressional address is that she totally stayed true to herself, rocking a chic outfit and sharing a serious story about the reservations she has about using certain products on her kids. IDK about you, but I'm so down for this Kardashian Kause.
Kardashian spoke on Capitol Hill on Tuesday to highlight the need to regulate ingredients in cosmetics and products like lotions, alongside Environmental Working Group (EWG) President Ken Cook and Rep. Frank Pallone, Jr. of New Jersey. According to People, Kardashian has teamed up with EWG to create an initiative called #BeautyMadeBetter, to advocate for reform in the cosmetics industry. During the briefing, the reality star explained that motherhood and the potential presence of toxic chemicals in baby products is what really alarmed her and got her into focusing on the ingredients in certain products. People reported Kardashian as saying,
When I had my first son, I started really learning so much about the foods that I was feeding him and it just kind of all snowballed. As a mom, you really take so much interest in the products… and it's so crazy. I was thinking about it this morning. I would get so many baby gifts and a lot of it were products, skincare products for my kids.
"And I would use the things that people sent me just assuming these are baby products and that they should be safe," she continued. "I remember learning from my mom friends that these were not healthy at all."
She also addressed her sister Kylie Jenner's makeup line, Kylie Cosmetics, which she just partnered up with to create a limited edition makeup collection that launched on April 24. While Kardashian admitted that she was unsure of the products that Jenner uses in her makeup, she did say that "My sisters' products have been checked by EWG and they scored well," according to People. Though some people felt that Kardashian had side-stepped the questions about her sister's beauty line, you gotta commend her for being open and using her platform to shed light on the lack of cosmetics regulations. Right?
Several people thought so, including Sen. Tammy Baldwin, who praised the mother-of-three for bringing awareness to the potentially dangerous chemicals in cosmetics products.
Aside from that, it's also impressive that Kardashian linked up with Pallone, who's a longtime proponent of this issue, to urge makeup reform. Back in January, while speaking at a House Energy and Commerce Committee subcommittee hearing, Pallone stated that the laws for cosmetics have been "untouched" for almost 80 years, so it probably means a lot for the reality star to jump in to help. He explained,
While all other product categories regulated by the agency have been updated to keep pace with innovation and consumer expectations, the laws for cosmetics have been left untouched for nearly 80 years. That is simply unacceptable, and we really should be taking this opportunity to consider legislation to give FDA the authority and the resources to ensure cosmetics are safe for the American people.
Considering Kardashian is a part of a family who built an empire off of beauty products, I'm glad to see her stepping up and advocating for the safest cosmetic ingredients as possible.
Kardashian has always been a huge advocate for organic and healthy living, which is why her input is so authentic and sincere. In October 2017, she even released a note on her app and website about the importance of stepping away from mainstream deodorant options and seeking safer ones. It read,
Changing over to an all-natural deodorant seemed like an important thing to do when I heard that when people are diagnosed with breast cancer, they are told to immediately discontinue using conventional antiperspirants and deodorants. Although research connecting the parabens and aluminum from these products directly with breast cancer is inconclusive, I like to play it safe.
You go, girl. Kardashian is making some major moves, and if this is her segue into more serious issues and fields like politics, I don't think I'd be mad at that one bit.