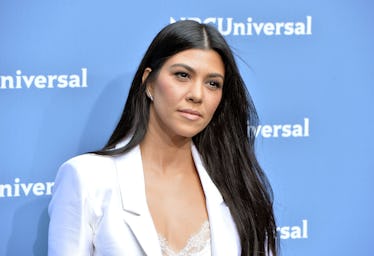 Kourtney Kardashian Is Speaking On Capitol Hill To Address This Important Issue
Slaven Vlasic/Getty Images Entertainment/Getty Images
The Kardashian-Jenner family has made their mark on culture by dominating multiple realms and industries, including fashion, beauty, and social media. The sentiment that the members of this family are famous for no reason is officially a thing of the past, and one of the famous sisters is using her platform to enact some much-needed change in cosmetics regulations. Kourtney Kardashian will speak on Capitol Hill this week urging for makeup reform — and although this may sound kind of trivial at first, this issue is actually pretty important.
The eldest Kardashian sister will be joined by Rep. Frank Pallone, Jr. (D-New Jersey) on Tuesday, April 24 at a hearing that is scheduled for 4 p.m., according to The Hill. The two will address the necessity to change the Food and Drug Administration's (FDA) control over cosmetics regulation, arguing that current laws are "obsolete."
Pallone has been a longtime proponent of this issue and has brought up the need to strengthen regulations many a time. Most recently, Pallone discussed the current regulations at a House Energy and Commerce Committee subcommittee hearing in January, where he said,
While all other product categories regulated by the agency have been updated to keep pace with innovation and consumer expectations, the laws for cosmetics have been left untouched for nearly 80 years. That is simply unacceptable, and we really should be taking this opportunity to consider legislation to give FDA the authority and the resources to ensure cosmetics are safe for the American people.
On Sept. 14, 2016, Pallone introduced a bipartisan proposal with Rep. Leonard Lance (R-New Jersey) that would grant the FDA greater regulatory authority to make sure that cosmetics products in the U.S. are safe to use. The current regulations do not require cosmetics manufacturers to register with the FDA or provide info on their products and ingredients, and also do not require companies to test cosmetic products for safety before bringing them to market.
The FDA also cannot currently call for mandatory recalls on cosmetics products deemed unsafe — something this proposal would change. "We owe it to American consumers to do all we can to ensure we have a robust cosmetic regulatory system that ensures the safety of the cosmetic products that Americans purchase and use each day," Pallone said in a letter to the Energy and Commerce Committee Chairman earlier in 2016.
The Kardashians are no strangers to the cosmetics industry. The youngest Kardashian-Jenner, Kylie Jenner, runs her own cosmetics company dubbed Kylie Cosmetics by Kylie Jenner, as does older sister Kim Kardashian with her KKW Beauty by Kim Kardashian West cosmetics line.
And Kourtney will soon become the third sister to join the beauty biz, as it was announced last week that Kylie is creating a special mini-collection, the "Kourt x Kylie collaboration." The new collab is set to launch (coincidentally) on April 24, the same day that Kourtney is scheduled to make her appearance on the Hill. Was this done on purpose? That isn't explicitly clear. But the Kardashian family is one that knows how to work the publicity machine that is the media, so I wouldn't be surprised if this move was a calculated one.
What Kourtney and Pallone will specifically address in their hearing isn't known, but there is no question that this issue is an extremely important one. Why has it taken this long for someone in Washington to bring up the need for cosmetics regulation? These are products that women put into their bodies on a daily basis, and for some reason these regulations have been overlooked for nearly a century. Hopefully having a Kardashian present with Pallone will raise more awareness and enact greater change.