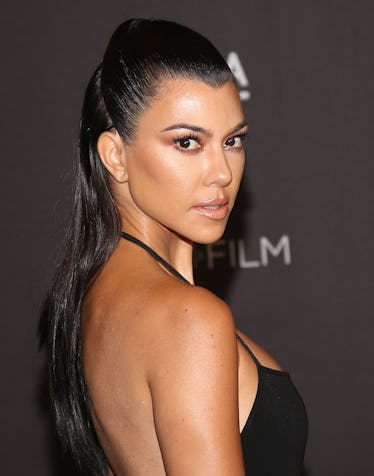 Kourtney K Opened Up About The Power Of Posing Nude In The Most Impactful Way
Jesse Grant/Getty Images Entertainment/Getty Images
Maybe you've been distracted by the cheating scandal going on with Tristan Thompson and Khloé Kardashian, Kim and Kanye reinventing fashion yet again, Kylie's pictures of baby Stormi, or Kendall walking the Victoria's Secret runway, but let me please draw your attention to big sister Kourtney. Homegirl is busy posing nude and loving it, not to mention she's empowering other women along the way. The eldest Kardashian sibling just posed naked for GQ Mexico and dropped some much-needed #truth in her interview. Kourtney Kardashian's comments about the power of posing nude are so encouraging and offer a refreshing (and necessary) perspective on finding self-acceptance.
Posing nude is not new to Kourt. In fact, she first did it while pregnant with her third child. In 2014, Kourt posed for DuJour magazine while carrying her youngest boy, Reign. At the time, she told the magazine, "I really feel so comfortable, and almost at my best, when I'm pregnant."
That sentiment still rings true for Kourt four years later. She told GQ Mexico, "A body during pregnancy is beautiful. I always enjoyed being pregnant, it's a very beautiful state and that's what I wanted to show." The second time she stripped down for the camera was a year later after Reign was born. This time, it was about showing the resilience of the female body. Kourtney explained, "I was portrayed from behind, lying on the floor; I loved it, I felt power in my body and I wanted to transmit it to women."
While the beauty guru, interior design enthusiast, and fashion design dabbler is confident in her own skin, she stresses the importance of practicing self-confidence.
"There are moments when I care about what people say and others when I don't at all," she said. "I have to constantly practice self-confidence and remind myself that negative comments come from people who don't really know me and are not in my situation."
According to Kourtney, the world needs more authenticity, and she is trying to do just that — live authentically. She explained, "Being a true role model is to be as transparent as possible, because the world deserves honesty today. She added, "I am convinced that I am definitely living for myself and I am trying to be the best mother, sister, daughter, and friend. The world is a place full of suffering, but strengthening us through our experiences empowers us."
As a mom, she also works extra hard to project the kind of energy she wants her kids to take on. One example of that is her attitude towards the paparazzi constantly swarming around her and her children. "I tried to understand that the photographers are doing their job and I stopped paying attention. That improved the situation," she said. "I realized that my children are eating my energy."
Speaking of eating... KUWTK fans know how much of a health nut Kourtney is. Still, she says she isn't stressing her diet too hard these days. Today, her focus has shifted from diet concerns to straight up female empowerment. She says,
Women have become more strong and powerful... This movement about celebrating our bodies has helped us love ourselves as we are, instead of trying to be something different.
Preach, sister. Actually, now that you mention it...
*Takes off pants*
That's better.