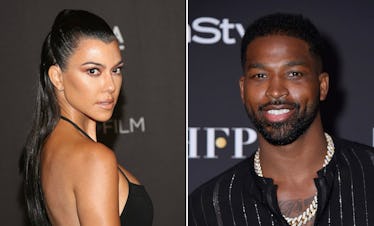 Kourtney K Shaded Tristan So Hard In The Delivery Room, But You Probably Missed It
Jesse Grant/Getty Images Entertainment/Getty Images & Michael Loccisano/Getty Images Entertainment/Getty Images
What a time to be alive. Keeping Up With The Kardashians fans are watching in wonder as the series catches up to the real-life cheating scandal that went down between Khloé Kardashian and Tristan Thompson at the same time as the birth of their daughter, True. Fans recall videos of Thompson seemingly kissing other women while Kardashian waited to give birth in their shared home in Cleveland, Ohio. Now, it's all playing out on TV. Kardashian's sisters Kim and Kourtney make it in time for the birth, and Kourtney Kardashian's comment about Tristan Thompson in the delivery room is so shady. But, TBH, I'm so here for it. People have been dying to see what actually went down between the reality TV star and professional NBA player when the cheating reports dropped, and it's a relief to know Khloé's sisters had her back and were there to keep it real.
I'm sure you guys remember the saga, but let's recap it, anyway.
Khloé was hanging out in Cleveland zooming in on her due date while Thompson was finishing up his basketball season. Up until April 2018, Thompson and Khloé appeared to have a nearly perfect relationship. Then, within 48 hours of Khloé giving birth, TMZ released footage of Thompson seemingly kissing other women. After that, there was a small outpour of cheating rumors and the media had a field day. Meanwhile, Khloé was straight up going into labor and everyone was panicking. And by "everyone," I mean just KUWTK fans. Khloé and her family members actually did a pretty good job remaining calm. I know this, because I watched it on TV.
On Sunday, Nov. 18, the public watched baby True arrive and sisters Kourtney and Kim run into Thompson in the delivery room. Previously, Kourt and Kim discussed how best to address him knowing that Khloé wanted to keep the peace for her baby's delivery. Kim opted to drag her finger across her neck in the universal "you're dead" symbol. Kourtney went with a hilarious, albeit spot on, comment.
While Thompson was holding his new daughter for the first time, he said: "They say girls change your life."
Kourtney, without missing a beat, smiled and responded, "We can only pray."
I mean... it's so good.
Fans loved the interaction on Twitter and even Khloé had to admit how boss it was. She retweeted the exchange and wrote that she loves "savage Kourt."
Khloé also tweeted that looking back on the chaos of the day and circumstances, she can see now that she was "completely in shock."
However, she stands by her decision to include Thompson in the birth of their child and work to make things peaceful for True. She tweeted:
Regardless of what Tristan did to me, I was never going to take that moment away from True or Tristan. She should not be punished for his actions. He is her father and they both deserve to love one another as deeply as They possibly can #KUWTK
Today, Khloé and Tristan seem to still be living in some sort of limbo. Every other day a new report breaks claiming they're over while another one says they're doing everything they can to make it work.
All fans can do it rely on Khloé's personal comments for insight into what is really going on (and hope it all comes out in future KUWTK episodes)!