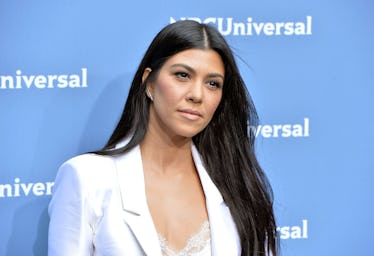 Kourtney Kardashian Celebrated Her Birthday At Disneyland & It Looked So Epic
Slaven Vlasic/Getty Images Entertainment/Getty Images
No one knows how to make their fans super jealous by posting elaborate Instagrams quite like the Kardashian clan. Of course, no one knows how to pull off a flashy birthday quite the Kardashian bunch either. This time around, Kourtney Kardashian decided to welcome her 39th year in the most epic way. Kourtney Kardashian's birthday trip to Disneyland looked magical — and, like, why wasn't I invited?
On Saturday, April 21, Kourtney Kardshian celebrated turning 39 years old at the "happiest place on earth." According to TMZ, she was accompanied by her boyfriend, Younes Bendjima, her mother, Kris Jenner, her mother's boyfriend, Corey Gamble, and her children, Mason and Penelope Disick. You're never to old for a day of magic, rides, and beloved childhood icons, right?
Naturally, Kardashian couldn't let the Disneyland birthday celebration go by without documenting some of the magic on her Instagram. She took to her Story to post some videos of her going round and round on an airplane ride, looking out over the Cinderella Castle, and watching fireworks. Everything looked super pretty and made me want to pack my bags, leave all my responsibilities behind, and go find my Prince Charming.
But of course, you don't have to take my word for it. Here, see all the Disneyland magic for yourself:
Here's an opening shot of some signature Disney balloons.
The Cinderella Castle looks even more magical lit up at night. Now I understand why half my newsfeed consists of people getting engaged in front of it.
I watched this video of Kardashian going round and round on this airplane ride about ten times to get this shot for you. So I am quite dizzy, and you're welcome.
Finally, it looks like they ended the festivities by watching some fireworks.
Though the Kardashian/Jenner crew decided to celebrate Kardashian's birthday over the weekend, the Keeping Up with the Kardashians star actually turned 39 on April 18. Once again, the family honored Kardashian's birthday the way they do everything: by posting some epic pictures on social media.
First came Kris Jenner who posted a throwback pic (with some vintage style inspo) of her holding Kardashian. The photo is captioned,
Happy birthday @kourtneykardash!!!! My first born, my gift from God, my amazing precious blessing!! You have given me so much joy and love and beautiful immeasurable experiences and memories since the day you were born and I thank God every single day that he chose me to be your mom. I'm so proud of you... you are the most amazing mom, sister, auntie and daughter and I love you with all of my heart forever and ever ❤️❤️❤️❤️ Mommy xo
I should really call my mom (so I can read Jenner's post verbatim and ask her to post the same about me).
Kim Kardashian was next to join in to the social media birthday festivities, and she posted a sexy shot of her and her older sister lounging poolside in some matchy matchy — I wanna say — swimwear?
"Happy Birthday to my friend I've had the longest in my life," wrote Kim K, Wouldn't know what to do without you! Have the best birthday ever!!!!"
Even brother Rob Kardashian joined in to wish his big sis a happy birthday. Honestly, if he hadn't, I probably would have gone on forgetting that he is a part of the family. The glam squad of girls really take over the show, and I am constantly forgetting about the guy in the bunch.
Rob also posted a throwback picture of Kourtney and Kim K wearing matching white overalls and floral tops with their late father Robert Kardashian. Rob wrote,
Happy Birthday to my oldest and wisest Sister ! I LOVE YOU so much!!! I am so Thankful for you and God Bless You with another amazing year! Love Bob
It's really nice for the family to share the love on social media, because you know as well as I do: If it doesn't get posted on social, it never happened.
Anyway, happy birthday Kourtney, and may you have a magical year 39.