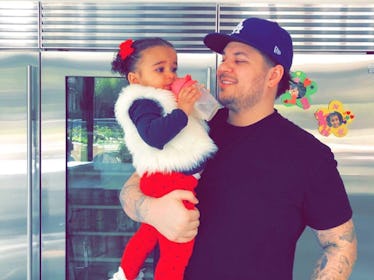 Rob Kardashian's Net Worth Is Lower Than His Sisters', But He's Still Making Bank
The Kardashians are rich AF and I don't care what you think, say, or feel about them. They're basically the royal family and you can't convince me otherwise. All of the Kardashian/Jenner siblings have their own businesses and ventures raking in similar salaries, but fans might wonder where middle brother Rob falls on the spectrum. Rob Kardashian's net worth isn't as big as his sisters', but damn, it's nothing to feel bad about, either.
Rob is sibling number four out of six and the only brother on Kris Jenner's side of the family. While he's technically older than Kylie and Kendall, he definitely seems like "the little brother" for some reason. Unlike his sisters, Rob has taken a backseat to fame and tends to spend most of his time off camera and away from the limelight. While his sisters make a lot of their income from public appearances and brand endorsements, Rob prefers to lay low. For these reasons, Celebrity Net Worth says Rob's net worth is $10 million though his sisters' net worths range from $18 million (Kendall) to $175 million (Kim, obviously).
The site calls Rob a "reality TV star" and "talent manager," which might raise some eyebrows. According to Celebrity Net Worth, Rob was "integral" in creating the pop group, BG5. Though that venture was short lived, Rob has collected a lot of money from his multiple TV series including Keeping Up With The Kardashians, Khloé & Lamar, and Dancing With The Stars. (To be honest? He did pretty awesome on DWTS. Runner-up, in fact.)
I can not recommend pausing whatever you're doing to watch this video enough.
Today, Rob's main focus is raising his daughter, Dream, plus the occasional promotional push for his sock line, Arthur George. A pair of Arthur George socks will run you about $15, and the website pridefully boasts:
The Arthur George brand, the name a combination of Robert's middle name - Arthur - also his grandfather's name, and his father's middle name - George - was born from Robert's life-long passion for men's accessories and his observations of the growing trend in vibrant streetwear, and lack of colorful, unique socks for men. Robert started working on stand-out, spirited, slogan-centric sock designs and the Arthur George statement sock was born.
Wait a second, do I need to quit my day job and get into statement socks?
Despite his hefty net worth, TMZ reports Kardashian is giving a lot of his money to his daughter's mother, Blac Chyna, for child support. (Like, $20 thousand a month, actually.) TMZ reports Rob's family, including his mom, Kris Jenner, has stepped up to help cover the expenses to ensure he maintains equal custody of his daughter.
In September of 2017, People reported Chyna and Kardashian agreed on joint custody, and in July earlier that year, Chyna told the magazine she was invested in co-parenting with Kardashian. She said,
I feel that the key to successful co-parenting is communication and respect. I might have one point of view, but hopefully Dream and King's fathers add theirs, and we can come together to build better people. I know right and wrong. I'm pretty sure they know right and wrong. We're going to do the best we can.
Hopefully Rob's net worth helps both him and his daughter.
In the meantime, Rob, anytime you want to make your triumphant return to the dance stage works for me. I think you are a sun that never sets. A dream that never dies. A diamond in a sea of sequins. And still pretty freaking rich...
Check out the entire Gen Why series and other videos on Facebook and the Bustle app across Apple TV, Roku, and Amazon Fire TV.