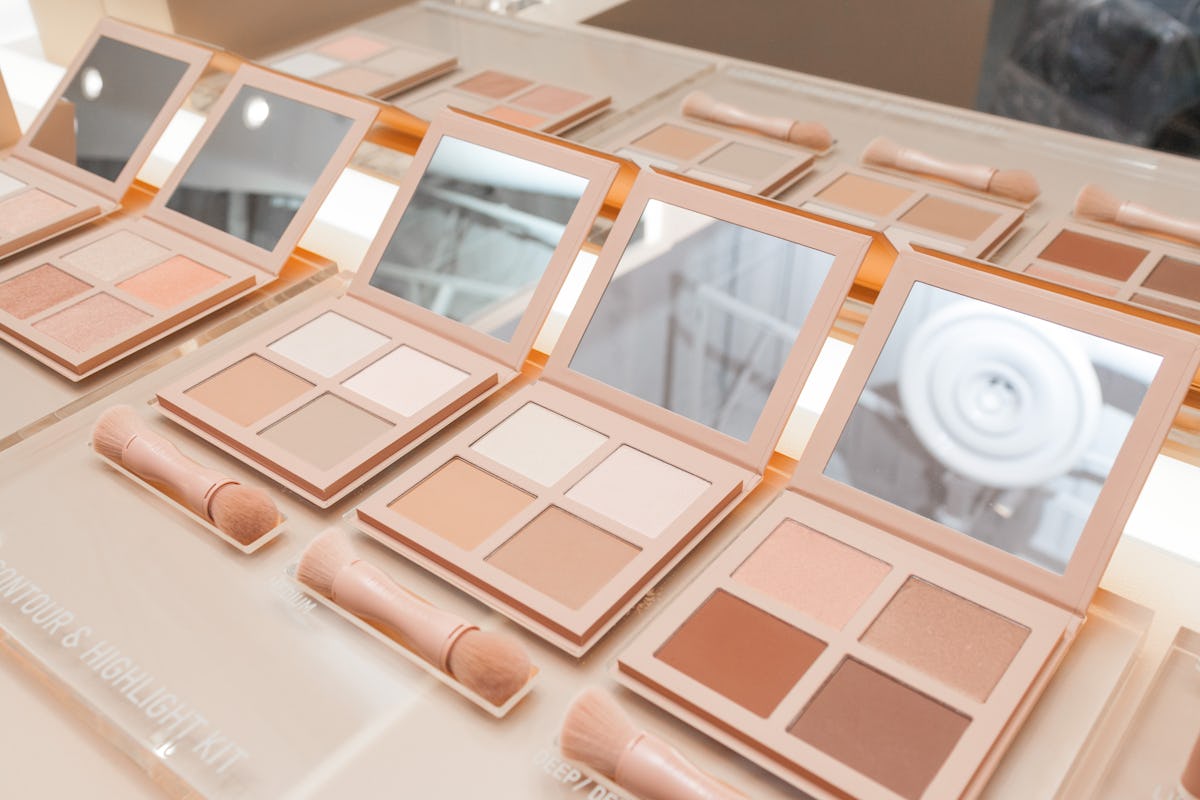 KKW Beauty Just Announced You Can Get Up To 50 Percent Off SO Many Buys For Black Friday
Presley Ann/Getty Images Entertainment/Getty Images
Hi, so we need to talk about the fact that KKW Beauty is on a roll — like, seriously on a roll. Kim Kardashian West and her team have been spoiling us with new product launches and collabs, and now that KKW Beauty's Black Friday 2018 sale is almost upon us, I'm adding it to my Thanksgiving list of things to be thankful for, because believe me, it's a good one. If you're looking to stock up on some of your favorite millennial-nude-packaged beauty products, or if you've yet to try the brand out at all, get excited, because now's your chance.
To be clear, after KKW Beauty announced the launch of the new Glam Bible Smoky Volume I, I wasn't expecting much else in terms of Black Friday/Cyber Monday deals or releases. The set features 10 products — most of which are totally new, including the brand's first-ever mascara, eyeliner, and false eyelashes — and it's a great value for money. That said, I pretty much figured that would be it for Kim's holiday blessings. Not even one second later, though, a KKW X Kylie Round 2 collaboration was announced on Instagram, promising a new drop on none other than Black Friday, the most major shopping day of the year.
Black Friday sales? What are those? KKW Beauty said we're here for new 👏 product 👏 launches 👏 only:
Nevertheless, the brand does have a Black Friday sale in the works that Kim just announced, and believe me, if you thought it couldn't get any better, just wait.
Starting on Thursday, Nov. 22 (Thanksgiving), at 6 p.m. PT, KKW Beauty is offering 30 to 50 percent off (!!!!!!) on every single one of their lip and face products, eyeshadow palettes, their Flashing Lights collection products, their Ultralight Beam products, their famous Contour Kits, the equally famous Powder Contour & Highlight Kits, their Highlighter Palettes, and even more steals. I'm gonna need someone to revive me right now, because Kim K just killed me, and I can't get up.
According to KKW Beauty's Instagram stories, there's no promo code needed, meaning the respective discounts on the products will be applied on the site automatically. You should be aware, though, that while I'm sure we're all lusting after KKW's new Glam Bible Smoky Volume I collection to be released, it, the products in it, the cosmetic bag, and tools won't be included in the discounts, unfortunately. Hey, you can't have it all. But you know what you can have at a discounted price? Pretty much every other damn thing on KKW Beauty's website!
KKW Beauty also stated that the sale will last until Saturday, Nov. 24, at 11:59 p.m. PT, meaning if you sleep through all of Thanksgiving and Black Friday, you can still snag some discounted items on Saturday. If I had to give you some advice, though, I'd say to set an alarm for Thanksgiving day when this sale starts. Odds are, most things will sell out pretty quickly. After all, everyone wants their dose of KKW Beauty this year.