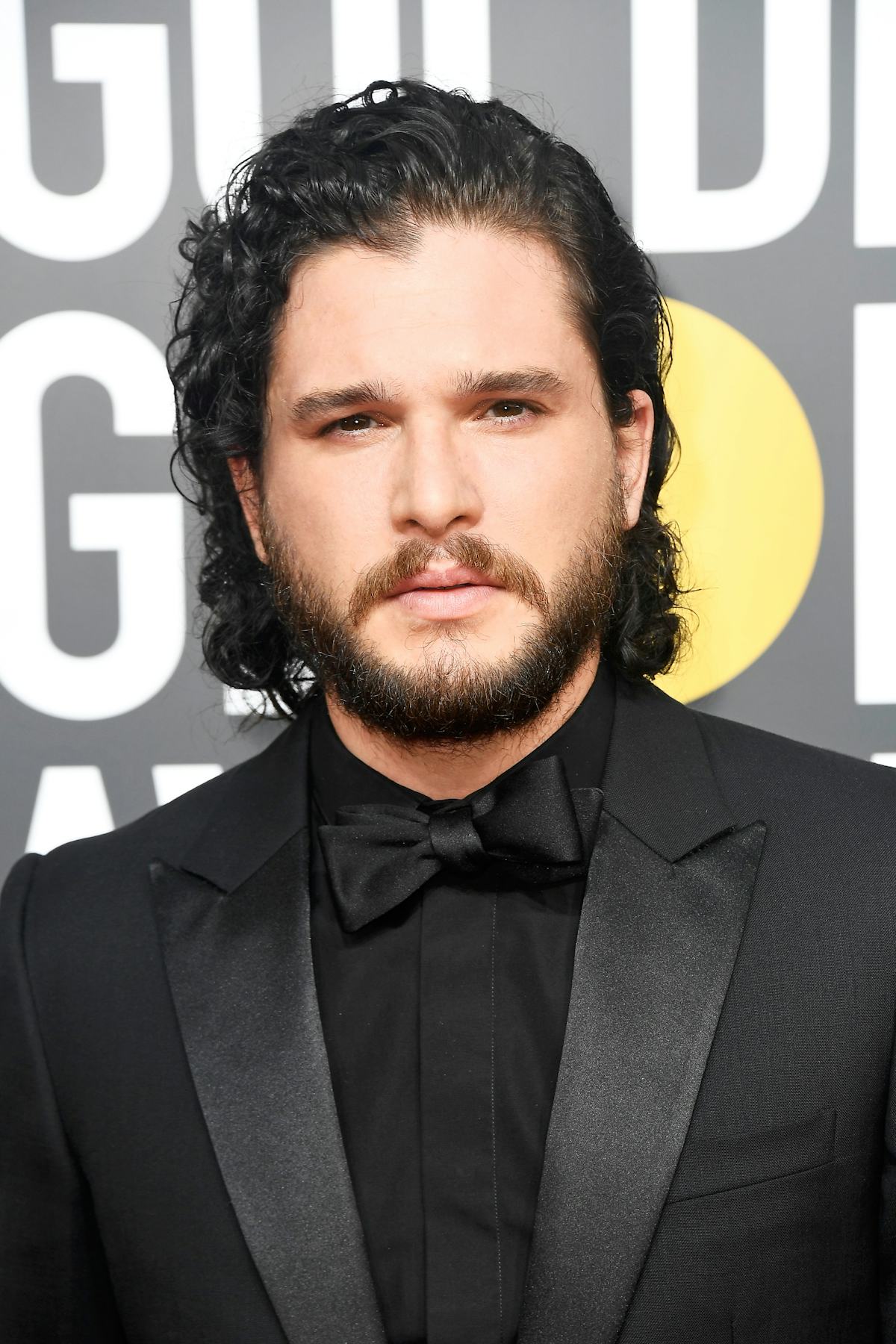 Kit Harington's Golden Globes Look Is Fire, But He's Missing One Very Important Thing
Frazer Harrison/Getty Images Entertainment/Getty Images
Winter is here, and I was hoping a certain Game of Thrones couple's red carpet appearance would warm my cold dead heart. Sadly, only half of the dream duo arrived to today's iconic awards show. While Kit Harington's 2018 Golden Globes look is still hot enough to light a little fire within me (OK, a lot), I was very much looking forward to seeing what Rose Leslie would rock on Sunday, January 7th's Golden Globe's red carpet. Sigh.
I'm very in love with both of them and think their off-screen romance is the best thing ever. Considering they're pretty private about their relationship and have stepped out on a red carpet only a handful of times together (the first being in 2016), seeing them hand in engaged hand would have made my Game of Thrones-obsessed self feeling fuzzy af.
Harington and Leslie presumably first met while filming the second season of Game of Thrones in 2011. If you're not a GOT fan (SHAME!) then I'll give you a little recap of their on-screen involvement: Harington, aka Jon Snow, aka swoon daddy, is a member of the Stark House and then the Night's Watch; his main job is to help protect the Seven Kingdoms from the dangers that lie beyond the Wall. In order to assess the danger his people might be in, Jon ventures beyond the wall, where he meets Leslie, aka Ygritte. Ygritte is a member of the Free Folk, who are called Wildlings. Jon eventually lives among the Free Folk as a spy for the Night's Watch, but falls in love with Ygritte while doing so. Ah, forbidden romance!
The two share a super steamy love scene within a cave in the third season of the show so, I mean, how could they not fall in love in real life?
Although they've never confirmed when exactly the began dating, Harington did say it was while they were filming in Iceland, which was between Sept. 2012 and Jan. 2013. The couple had their first red carpet appearance together at the 2016 Olivier Awards and man, did they look gorgeous!
On the show, they both wear layers upon layers of thick furs in order to brave the frigid temperatures that life beyond the wall entails, so seeing them together in black tie looks was kind of a shock at first. Leslie wore a stunning strapless gold gown, while Harington was in a sleek tux. In Sept. 2017, it was confirmed that the two were engaged, and I think every GOT out there let out a collective squeal of excitement.
Which brings us to tonight, Sunday, January 7, on the Golden Globes red carpet. I was so ready to write all about the undoubtedly gorgeous look Leslie would wear (her style is the definition of classy and cool—please see the red Dior dress she wore to the 2017 Olivier Awards for reference) and how happy she and Kit looked together. I couldn't wait to see what updo she might try and which unique pieces of jewelry she'd pull out. So when Harington came flyin' solo down the red carpet, I'll admit I was bummed.
That's not to say he doesn't look handsome AF, though. I mean, the man looks sexier than James Dean while wearing a scraggly fur cloak on Game of Thrones so yeah, he can slay a tux.
Which, might I add is all black. Shirt included. This is important because wearing the hue to this year's Golden Globes is a sartorial protest against sexual harassment. As if I didn't love him enough! His shoes look to be velvet, which I also love (give me all of the textures!) and adds a bit of a pop to his otherwise standard look.
Yeah, I miss Leslie, but Harington and his look are definitely still on fire.