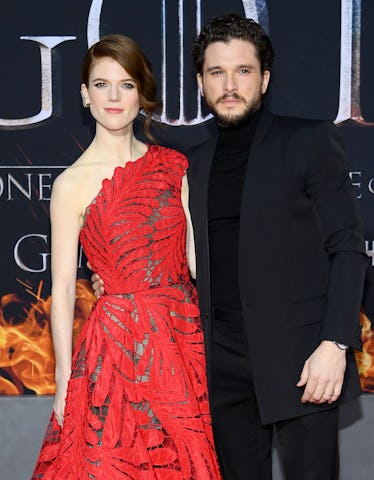 Kit Harington & Rose Leslie's Astrological Compatibility Says Their Love Is Kissed By Fire
Dimitrios Kambouris/Getty Images Entertainment/Getty Images
Before there was Jon and Dany, there was an arguably even more exciting romance on Game of Thrones: Jon and Ygritte. As much as I stan the (admittedly problematic) current love story, a part of my heart never left the cave, if you know what I'm saying. And since Kit Harington and Rose Leslie are a married couple in real life, it never has to. Much like their characters, Kit Harington and Rose Leslie's astrological compatibility shows that these two are literal star-crossed lovers, which explains why their road to the aisle had its bumpy patches.
If you aren't familiar with their real-life love story, Cosmopolitan reported the couple started off as friends, but once they began working together on season two of Game of Thrones, the sparks started to fly. Harington described falling in love with Leslie to L'Uomo Vogue back in 2011: "If you're already attracted to someone, and then they play your love interest in the show, it becomes very easy to fall in love," he said. Despite their romantic beginning, The Stir reported that the couple reportedly split in 2013. Fortunately, things got back on track in 2016 when they confirmed they had rekindled their romance by making their red carpet debut at the Olivier Awards in London (whew!). The couple moved in together the following year in June 2017, and announced their engagement in September. Harington and Leslie went ahead and said "I do" when they were married in June 2018. Swoon.
While their love story has a happy ending, it hit some bumps along the road. Then again, when you consider this couple's zodiac signs, it all start to make sense. Harington was born December 26 under the sign of Capricorn, and Leslie's birthday is February 9, which makes her an Aquarius. These neighboring — but almost entirely opposite — signs may not make for the most obviously compatible couple, but when it works, it works. Here's what we can surmise about Leslie and Harington's romance, based on astrological compatibility.