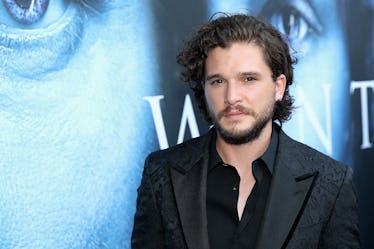 Jon Snow Reveals He Knows How 'Game Of Thrones' Ends, & We're So Impatient
Neilson Barnard/Getty Images Entertainment/Getty Images
We all know winter is coming... and, unfortunately, ending. Though it's a difficult thought to bear, we will have to come to terms with the fact that our favorite fantasy series will soon come to a close. Kit Harington knows how Game of Thrones ends, and we can't believe how Jon Snow is toying with our emotions.
The recently engaged actor told the BBC that the entire GOT cast did a read-through of the script, and it was so emotional that it brought him to tears. "I cried at the end," Harington said. "You have to remember that eight years of it, no one really cares about it more than us."
No one, huh? What about your millions of fans, Mr. Snow? Our Sunday nights will forever be incomplete without time in Westeros. Are you trying to torture us with these moving tidbits?
To add to our already sensitive feelings about the show's finale, Harington decided to get even more emotional during his interview, according to HelloGiggles. What are you doing to us, Snow? During his BBC chat, he commented on the longevity of the project, saying,
It's been an institution longer than any other institution I've been in. School, drama school, anything. I get a bit weepy thinking about it. It's going to be a strange year saying goodbye to everyone and having last scenes with this person and that person. Not only you're attached to it, loads of people around the world are attached to it.
Though fans still have some time before the show's impending final season, there is certainly a lot of excitement about the cast that will tide them over until the time comes.
First thing's first, Mr. Snow is on his way down the aisle. Harrington and his on-screen love turned real-life partner, Rose Leslie, will tie the knot... and possibly shut down production on GOT.
Harington explained on The Jonathan Ross Show:
I rang [the producer] up and I said, 'I'm getting married and it's your fault actually.' ...I was like, 'You need to factor in a Game of Thrones wedding by the way.' They [the cast] have all got to be there so the whole thing has got to shut down.
Will Jon and Ygritte's wedding actually postpone the show's plans? Even if they do, who could blame these two lovebirds? We're totally here for their IRL fairytale.
But this lovely couple isn't the only GOT cast member who has a wedding coming up. Sansa — played by the lovely Sophie Turner — just announced her engagement to Joe Jonas. Though fans collectively freaked out when the two shared their happy news on Instagram, they were a bit concerned. We have to wonder: Will Sophie's engagement delay season eight of GOT? Can we handle a lengthy wait... especially after Harrington gave us this emotional sneak peek into the finale episodes?
Fear not, fans, fear not. Actor Liam Cunningham — who plays Davos Seaworth— spilled the schedule beans.
On Saturday [Oct. 7] I get on a plane from New York back to Ireland.... I go straight up to Belfast, where.... we are having to first table read on Sunday of three episodes. And then on Monday we read the next three.... Then we rehearse for the rest of that week with two of the directors.... Then we start filming officially on the 16th or the 19th of October, so that's what, three week's time? In three week's time, we start.
So yes, there are plenty of impending nuptials keeping the GOT cast busy, but the actors didn't forget about Westeros. Hang tight — it's only a matter of time before we get just as emotional (if not more) than Snow.
Check out the entire Gen Why series and other videos on Facebook and the Bustle app across Apple TV, Roku, and Amazon Fire TV.