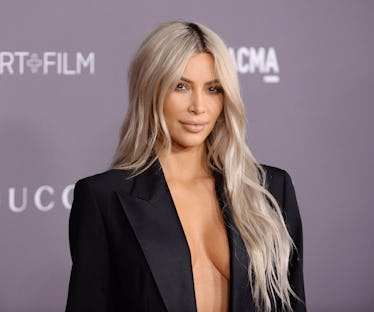 Kim Kardashian Is Living Her Best Life In These Vids From A Cher Concert
It's no secret that Kim Kardashian West likes to take a style cue from OG music icon and beauty maven, Cher. After all, who can forget the custom-made Sonny and Cher attire that Kardashian rocked for Halloween with her BFF, Jonathan Cheban? So when the reality star headed to Las Vegas for her high school reunion on Friday, May 4, it was fitting that she decided to see the "Believe" songstress sing live in Sin City. Luckily for all of us, the Instagram mogul documented it all on social media. Get ready for a heavy dose of FOMO, because Kim Kardashian's videos from a Cher concert show that she had the time of her life at the show.
Hours after teasing a getaway in Jackson Hole, Wyoming on social media with rapper husband Kanye West, the mom-of-three headed to Las Vegas solo to catch a Cher concert with a couple friends. As Kardashian welcomes every opportunity to pay homage to the musician, she served seriously inspired looks, including long aqua-hued nails, electric blue eyeshadow, and straight black hair that's giving me nostalgia for Kardashian's trademark dark brunette locks.
True to form, the selfie queen took to Instagram and Snapchat to share every step of her primping process. In her first snap, she showed the world her light blue manicure and told the camera, "Okay guys, these nails right here mean I'm in Vegas to see Cher."
Then, Kardashian informed her followers that she had not one, but two different outfits to change into during the show (let's be honest, she's not afraid to be a little extra). After showing off her smoky blue eyeshadow and go-to contour with close-up angles, the makeup maven gave fans a glimpse at her ensemble, which included a faux fur coat, a plunging black gown, and layers of turquoise necklaces.
During the show, the mom-of-three proved that even she's not immune to getting starstruck. Kardashian went on a selfie spree with videos of herself singing and dancing along to her favorite singles, including "I Got You Babe" and "After All" before panning to Cher on stage.
If we had any doubt at all that she's really living her best life, Kardashian can also be heard cheering and exclaiming, "Oh, you see, that's so good!" during the show as Cher belted out her timeless hits wearing a variety of dramatic costumes.
The TV personality later took to Twitter to personally applaud Cher, tweeting to the 71-year-old star, "I can't take it @cher is seriously the most amazing beautiful person ever!!!"
This isn't the first time that KKW Beauty star has sung the "If I Could Turn Back Time" hitmaker's praises. She even called Cher her "number one style icon" during a cover shoot for Harper's Bazaar in August 2017, and has heavily featured her favorite looks from the '70s style star on her Instagram account.
While the Cher concert looked like the highlight of the 37-year-old's trip to Sin City, she also took to Snapchat and Instagram to post photos from her Class of '98 high school reunion. She captioned a throwback photo collage of all her classmates, "The high school reunion continues in Las Vegas!!!" before posting a photo of silver and blue balloons that spell out "MHS Class of '98."
Now, the question on my mind is, was she wearing a Cher-inspired outfit? I'm staying tuned, but something tells me that we'll be seeing even more Cher inspiration on the Keeping Up with the Kardashian star's Instagram in the afterglow of this epic show. Keep your eyes open.